Why You MUST Diversify Your Marketing Channels in 2021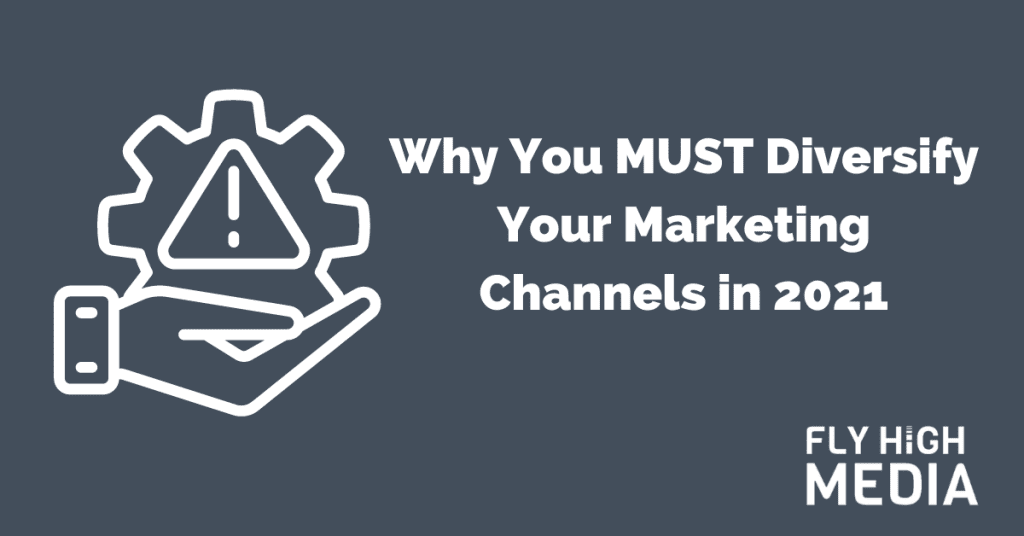 2020 taught us that digital marketing is essential for almost all businesses large and small across almost every industry.
The shift saw an increase in ecommerce stores being created from scratch, traditional brick and mortar businesses joining social media for the first time and advertising budgets increasing.
Now we are in 2021, there have been a few challenges with the digital landscape which I would like to highlight and share with you as they are more relevant now than ever before. Speaking from experience, there have been some challenges thus far in 2021.
I would like to speak to you about digital marketing risk management tactics and how you can pivot in a crisis if needs be.
Firstly, I would always recommend setting up, optimising and updating all of the following channels regularly:
Having these channels in your back pocket is imperative in case you need to quickly pivot to another channel. I am not saying that you should double down on each platform. However, I would recommend carefully selecting a couple of channels depending on your business goals and sticking with them. This also stops others from taking your ideal social media handles or page names.
A vital part to what I would like to talk about is your owned assets. This includes:
The good thing about these assets is that they cost virtually nothing to build yet they are vital tools for your business.
Let me hit you with some daunting scenarios along with what I see as the best solutions:
Scenario #1: Google rolls out a new algorithm and your organic rankings drop significantly.
First Steps: Firstly, don't panic. Concentrate on finding which pages have dropped the most. Use Google Analytics and Google Search Console to find the biggest losers in this situation.
How to react: Begin a Paid Search campaign whilst diagnosing your website to reclaim traffic to your site. If you are in ecommerce, push offers to your existing customers through emails, remarketing on social media, SMS messages or Push Notifications tools such as Subscribers.
How to ensure this doesn't happen again: Diversify your keyword selection and look for long tail keywords. Continue to keep on top of official announcements from Google.
Once you have identified the pages that have caused a loss in traffic, look for some quick wins such as improving the internal linking structure to the page and creating a content marketing strategy.
Scenario #2: You get hit by a Google Penalty and you lose rankings and organic traffic
First Steps: Audit and diagnose your site. You might have an issue with; Spyware/viruses, Hidden links or text, deceptive redirects, displaying different versions of your pages to search engine robots, keyword stuffing, duplicate content, spammy backlink profile. Check Google Analytics and Google Search Console to find the pages affected the most and start with them. Run your site through a checklist of the items above.
How to react: You will want to implement a similar approach to the one above. Utilise Paid Social, Email Marketing, SMS Marketing, Push Notifications. Be sure that if you have noticed security issues on your site, ensure that you have fixed these before encouraging people to visit your website as these emergency tactics will be pointless.
How to ensure this doesn't happen again: Always stick to Google's guidelines, keep on top of your website's security and keep your website's content fresh and high quality.
After finding issues, fix them and submit the pages to be reindexed in Google Search Console. Use Google Search Console to view the backlinks pointing to your website and disavow negative links that could be causing issues.
Check out our Google Penalty and Recovery services if you need further help.
Extra tip: If you can't diagnose organic search issues and you are experiencing a conversions issue, then perform a basic user experience check and look for things such as; contact forms not working, slow pop ups, 404 errors, HTTPs issues.
Scenario #3: Your Facebook ad account gets banned at the drop of a hat
How to react: The first thing you should do is check which policy and ad(s) has caused issues. You can appeal them, however I would always recommend attempting to speak to Facebook's live chat support.
To increase exposure immediately, you can:
You should at a bare minimum have set up Google Search Console, Google Analytics, as this will help you identify which channels are the best place to start.
Tasks to be doing all year round:
How to ensure this doesn't happen again: Facebook has very strict policies, you just have to suck it up and respect them. Don't put all of your eggs in one basket. Read up on the ad policies and be sure to not break the same rules multiple times.
Regularly run campaigns to help increase your mailing list. It is a valuable tool and is often underutilised. Don't ignore your organic search coverage and be sure to keep your fans engaged on your social channels.
Scenario #4: Your Facebook or Instagram page's organic reach has significantly dropped.
Solution: If you are having trouble with getting seen in news feeds, then try and get noticed by using Facebook or Instagram stories or even use Live Streaming. It is always good to test any other new features when they come out as well.
I would also recommend collaborating with other pages and as mentioned before, maybe testing other platforms. Perhaps you are on Instagram selling to the teenage market, your customer base is also likely to be on TikTok, you should try there.
Make the most of your Pixel data and email list as well to retarget your customers and website visitors.
How to ensure this doesn't happen again: Keep testing and measuring everything that you do. Test the frequency of posting, length of posts, type of content and even which platforms work best for you.
Conclusion
To conclude, always be sure to diversify your marketing channels in the case of an emergency. If you would like professional advice on how you can mitigate risk for your business online then please do not hesitate to get in touch.
Let's find the best solution for your business