From Inbox to Victory: Mastering Email Marketing Strategies in Sports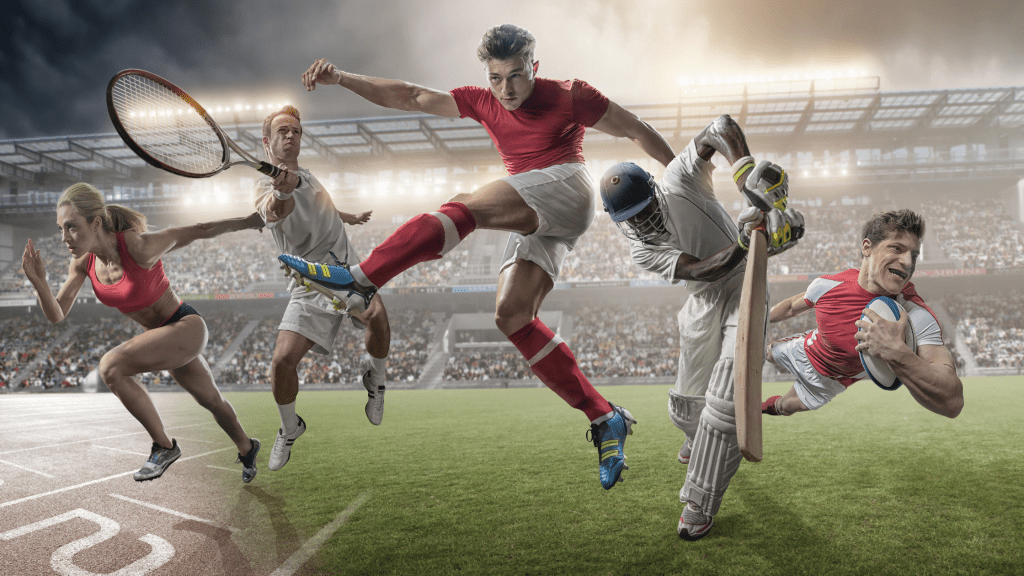 In an era dominated by social media trends and viral campaigns, it's easy to overlook the humble inbox. However, let me assure you: email marketing still packs a mighty punch and holds tremendous potential for sports teams.
Picture this: your favourite team scores a last-minute winning goal, and the euphoria is palpable. Imagine receiving an email moments later, celebrating that glorious victory and offering an exclusive discount on team merchandise.
That's the power of email marketing in sports – building a direct connection with fans, driving engagement, and turning victories on the field into triumphs off it.
But wait, you might think, "Does email marketing really hold up in this fast-paced digital age?" Absolutely! While social media grabs headlines, email quietly builds relationships that endure. It's like having a loyal fan in your stands, waiting for the final whistle and taking it all in, ready to engage with your content!
Below, we'll understand how email marketing strategies can help sports teams achieve victory beyond the inbox and for other industries generally.
We'll take a closer look at the recent email campaigns from Manchester United for their latest 2023/24 home kit launch, understand critical considerations for sports email marketing, and showcase inspiring successful examples from elsewhere in the world of sport.
The Power of Email Marketing in Sports
Email marketing may seem like the veteran player in the digital marketing game, but let me tell you, it's still the star striker that consistently delivers results for sports teams.
While social media platforms may grab all the attention with their flashy moves and viral trends, email quietly works its magic behind the scenes, scoring goals for marketers in the sports industry.
It still has value, as 37% of brands are increasing their email budget, and according to data sourced through Mailchimp, sports industry emails perform exceptionally well across several metrics.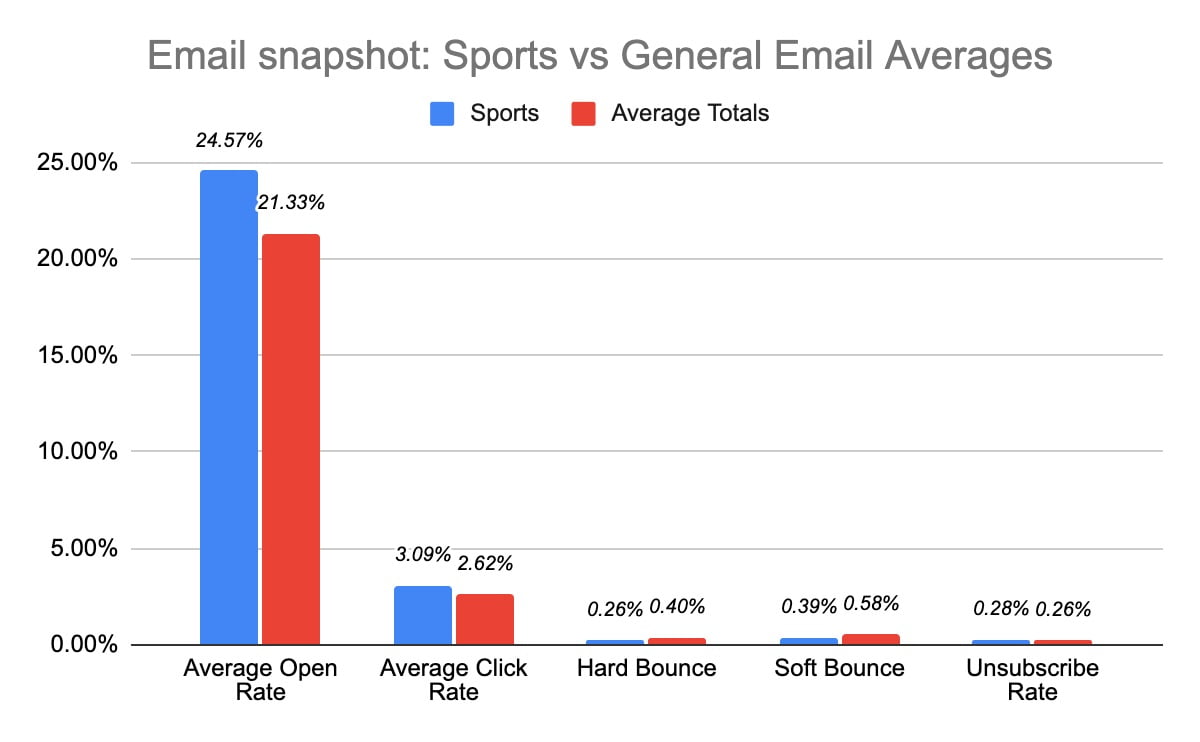 Source: Mailchimp
Higher open rates, higher click rate, lower hard and soft bounce impact – it pays to use email marketing within the sport with an average unsubscribe rate it proves that the content of what features within makes the difference in delivering the message needed.
So, why does email marketing still hold such power? Well, imagine being a die-hard fan eagerly awaiting updates from your favourite sports team. You refresh your inbox, and there it is; a personalised email from the team, addressing you by name, inviting you to an exclusive event, and offering a chance to win signed memorabilia. It's just the connection that goes straight to the top corner of a fan's heart.
Email marketing allows sports teams to establish a direct line of communication with their fans – one both personal and intimate.
It may be evident from this article that the author is a strong supporter of Manchester United. However, as Eric Cantona, a former player for the team, once stated, "You can change your wife, your politics, your religion, but never, never can you change your favourite football team."
Email marketing also has the option of unsubscribing, which allows you to easily remove yourself from the mailing list.
However, as a hardcore supporter, with an email, you can deliver breaking news, share behind-the-scenes stories, and provide exclusive content that makes you feel like you're part of the team.
The power of email is enhanced by its ability to stand out amidst a lot of other information.
Social media feeds can be a crowded stadium, with posts and updates flying left and right. But your inbox? That's like a VIP box where you have the team's undivided attention. With clever subject lines, captivating content, and strategic timing, you can stand out amidst the clutter and engage fans on a deeper level.
Moreover, email marketing gives sports teams control over their messaging. While social media algorithms may change the game, your email list remains a loyal and captive audience. You don't have to worry about your content getting buried in a newsfeed or restricted by platform limitations. Your email campaigns are like the captain's armband, allowing you to lead the conversation and drive the narrative.
Manchester United know the power of email marketing like nobody else.
In a world where social media dominates, the Red Devils have mastered the art of leveraging their email campaigns to connect with millions of fans worldwide.
From exclusive merchandise releases to pre-sale ticket opportunities, their emails score big with fans, keeping them engaged and hungry for more.
Preparations for the upcoming American pre-season tour have begun since the recent season ended. Additionally, a robust campaign for shirt sales, including old and new designs, has been set in motion.
Let's look more now at the tactics of the email strategy over the last few weeks have been the formation for success.
Manchester United's Home Kit Email Campaign
As often is the case now, football teams around the world regularly see kit changes year-on-year.
Whilst there may be arguments on the terraces for and against this, particularly with a cost-of-living crisis, it's now part and parcel of what football supporters somewhat expect.
This facet of business is a useful tool for teams during the off-season. It's a great way to maintain engagement, interactions and generate income when games aren't every week.
Planning for a whole kit launch (from design to release) takes place over a significant period of time, sometimes up to 20 months according to Andrew Dolan, product manager at Adidas.
In the initial phases of a product launch, the primary focus of marketing is to create excitement and anticipation. However, the true impact of these efforts is evident during the final push for sales as the season ends.
It can be difficult if teams have a successful season with trophies to round off the season, or if relegation has left a sour taste in some supporters' mouths, but for marketing teams, it's a perfect opportunity to either ride on coattails or find a way to inject some positivity into a fanbase.
For Manchester United, a globally recognised brand, there is a desire for their product around the world. Their email marketing towards the end of the 2022/23 season focused on their appearance in the FA Cup Final against local rivals and, at that stage, treble-chasing Manchester City.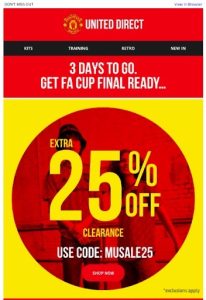 Within this was a way to have late capitalisation on sales of outgoing jerseys on sale.
Here it features a clear call-to-action, with the support of a discount code. Manchester United and many other high-level clubs are anticipating upcoming new kits. The majority of fans will have already invested earlier in the season, but with this FA Cup Final on the horizon, a call-to-arms for fans to kit themselves out, at a reduced price, is an ideal angle to pitch this at.
Even international fans were presented with similar countdown-style emails, including important information on when to tune in, here below for American supporters.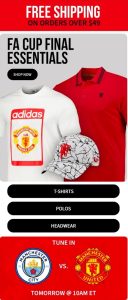 ​The result may not have gone the way of Manchester United, but the campaigns rolled on for kit and much more. Joining a membership allows fans to feel connected to the club as a whole and provides them with the opportunity to apply for spare tickets for competitions outside of the Premier League. Additionally, memberships are a great gift option for Father's Day, which came before the new kit launch.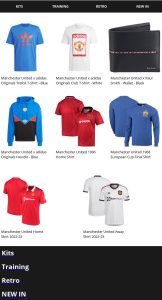 Another common theme throughout many email campaigns was the continued sale of old stock, again with clear CTAs.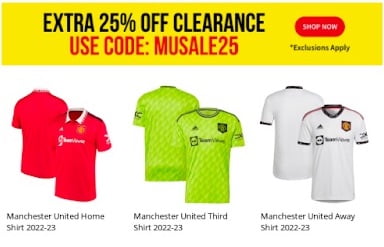 Even a joint effort to incorporate a principal sponsor in DHL within a competition email campaign pushed both the new training kit, teasing the idea of the new kit whilst pushing the brand messages of DHL, a delivery company.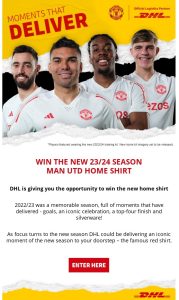 Another membership campaign was launched, featuring geometric designs that emphasised the connection between fans and the team. However, it could be interpreted as a subtle tease for the upcoming kit.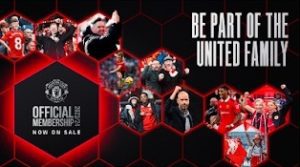 The momentum kept going with additional email campaigns promoting sales, fixture releases, and hospitality packages for games. However, there was one event that caught everyone off guard.
There are numerous offline efforts with kit launches, but at Glastonbury, Manchester-born and United-supporting rapper, Aitch, took to the stage and in front of a crowd of thousands, donned the new kit on the Saturday of the festival. Was it the real kit? Nobody could be entirely certain, but the club via social media leant into the conversation.
🌹

— Manchester United (@ManUtd) June 24, 2023
A day before the launch, Manchester United released the following email: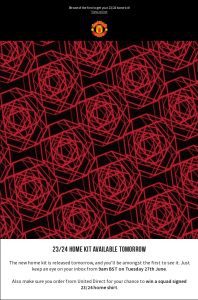 This has geared up all supporters to be ready for the launch itself.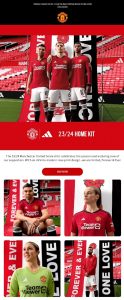 The tone of the text is clear and straightforward. It includes well-known players from both the men's and women's teams, as well as symbols and phrases that are associated with Manchester United.
The kit is somewhat of a tribute to the city's iconic red rose featuring a geometric design, strikingly similar to the imagery in an earlier email campaign, with inspiration from the bridge over the River Irwell, which connects Manchester and Salford representing the city's strength and its impact on the world during the industrial revolution.
Continued email communications around the kit are expected over the coming days and weeks, but ultimately it will depend on the performance on the pitch, and the impact of the ongoing off-the-pitch saga of whether the football club is sold, as to how sales may play out throughout the upcoming season.
Key Considerations for Email Marketing in Sports
Now that we understand the power of email marketing in the sports arena, it's time to lace up our boots and explore the key considerations that will help us score winning goals in our email campaigns. Just like a coach analysing the game plan, here are some essential factors to keep in mind:
Build a Fan-First Email List
Think of your email list as your starting lineup—the core group of fans who are eager to hear from you. It's crucial to build a fan-first email list by offering value and incentives. Create irresistible lead magnets like exclusive content, early ticket access, or even a chance to meet the players. Remember, your email list is a community, so nurture it with care and respect.
Personalisation: More Than A Name
Personalisation is the secret ingredient that turns a generic email into a personalised fan experience. As a fan, you can get personalisation on a kit, but in email marketing, you can go beyond simply addressing fans by their names, and consider segmenting your list based on their preferences, demographics, or past interactions. Tailor your content to specific fan groups, whether it's highlighting merchandise for loyal supporters or sharing player interviews for avid followers. Show your fans that you know them and care about their interests.
Compelling Content: Be the MVP of Their Inbox
When it comes to email marketing, the content of your emails is crucial. It's important to make sure that your emails are interesting, informative, and beneficial to your subscribers. You can achieve this by including game highlights, exclusive interviews, behind-the-scenes stories, or interactive quizzes. By infusing your emails with the team's personality and energy, you can keep your subscribers engaged and excited. Be the MVP of their inbox!
Winning Call-to-Action (CTA)
Every email should have a clear objective, and that's where your call-to-action (CTA) comes into play. Whether it's directing fans to purchase tickets, join a fan event, or participate in a contest, your CTA should be compelling and easily noticeable. Consider using eye-catching buttons, persuasive language, and a sense of urgency to motivate fans to take action. Remember, a well-crafted CTA can lead to conversions and victories for your team.
As you navigate the world of email marketing in sports, keep these key considerations in mind. Just like a team's preparation before a big match, thoughtful planning and execution will lead to success. And remember, humour can be your secret weapon! Use sports-related puns, playful references, or team inside jokes to add a touch of light-heartedness and make your emails even more memorable.
In the next section, we'll explore other real-life examples of successful email marketing campaigns in the sports industry, not just a singular football campaign.
Other Examples of Successful Email Marketing in Sports
We've taken a look at some other good examples of sporting email campaigns.
This horse racing email from Chester Racecourse highlights an upcoming race meeting, with strong, floral-style imagery that resonates with summer, clearly set out with complimenting colours and direct CTAs. Use of the links for the remaining horse racing fixtures at Chester for the year, and "Plan Your Visit" is very leading and engaging language in the hopes to convert.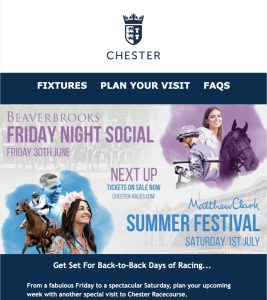 The recent NBA Draft has allowed the organisation, and teams in general to push off-season sales of jerseys, by using the draft of any new players to their relevant teams as a way to drive new sales. Fans may want to purchase early a branded jersey with the name of their new franchise superstar. Another smart element to this email is the incorporation of inspirations from recent browsing (possible to also include specific products based on your highlighted team when you sign up for email updates).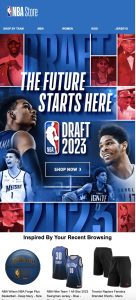 Sports Direct, a sportswear store, has sent a retail email promoting women's football jerseys ahead of the FIFA Women's World Cup in Australia and New Zealand. The email includes a countdown and showcases England kits, but also features other nations' kits through the use of GIF images. The presentation is impactful and attention-grabbing, making it a simple yet effective promotional strategy.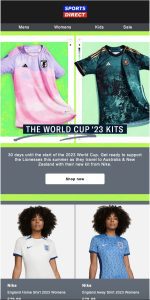 Tips and Best Practices for Sports Email Marketing
So, are you ready to move your sports email marketing game up a league? Here are some practical tips and best practices that will help you score big:
Segment, Segment, Segment
Divide your email list into targeted segments based on fan preferences, demographics, or past interactions.
Personalise your content and offers for each segment to increase engagement and conversion rates.
Automate for Efficiency
Use automation tools to streamline your email campaigns.
Set up welcome emails, birthday greetings, and triggered messages based on fan actions or milestones.
A/B Test like a Pro
Experiment with different subject lines, content formats, and CTAs to optimise your email performance.
Test one variable at a time to identify the most effective strategies for your audience.
Eye-Catching Visuals
Incorporate high-quality visuals, such as action shots, team celebrations, or player highlights.
Use visually appealing templates and design elements to make your emails stand out in the inbox.
Harness the Power of Urgency
Create a sense of urgency in your emails to prompt immediate action.
Limited-time offers, countdown timers, or exclusive pre-sale opportunities can motivate fans to act quickly.
Mobile-Friendly is a Must
Optimise your emails for mobile devices, as many fans read emails on their smartphones.
Ensure your content is easily readable, buttons are clickable, and images are appropriately sized for smaller screens.
Fan-Generated Content
Encourage fans to submit their own content, such as photos or videos of their game-day experiences.
Showcase fan-generated content in your emails to foster a sense of community and engagement.
Email marketing is an ongoing game, and continuous improvement is key. Like any quality backroom team – analyse your metrics, listen to your fans, and adapt your strategies accordingly.
Remember to infuse your team's spirit and humour into your emails. Sports are about passion and enjoyment, and your emails should convey that same enthusiasm.
By implementing these tips and best practices, you'll be well on your way to becoming a champion of sports email marketing. And don't forget, a lot of these skills are entirely transferable to other industries too!
If you need help perfecting those all-important email marketing campaigns, converting more prospects, and generating more revenue for your sports team, or any other business industry, get in touch with us today at Fly High Media about our services.
Let's find the best solution for your business