All Topics
Whether you're a small business with a few part-time employees or an established company with several departments, the chances are that at some stage, you will seek the expertise of
Read More »
Advertising
Blogging
Branding
E-Commerce
Email Marketing
Marketing
Monthly Roundup
PPC
SEO
Social Media Marketing
User Experience
Web Design
Whether you're a small business with a few part-time employees or an established company with several departments, the chances are that at some stage, you will seek the expertise of
Read More »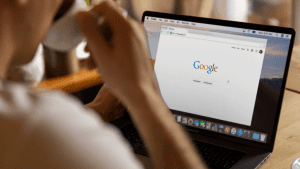 If you are new to paid advertising, Facebook Ads and Google Ads are probably the first two that come to mind. But which is best for your business? Firstly, you
Read More »
Lucy Hughes joins Fly High Media as our new SEO Executive. She is enjoying her time at Fly High Media so far and we thought we'd catch up with her
Read More »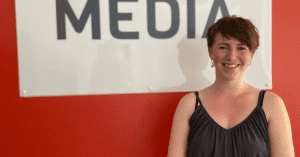 Fly High Media are happy to announce that Carla Price will be joining the team as Content Executive. Carla enjoys creating engaging content, whether that be in a professional atmosphere
Read More »
Job Description Position: Marketing Executive   Location: Hooton Cheshire, CH66 7NZ  Salary: Competitive Contract: Full/Part time, permanent Hours: Mon – Fri 9 am to 5:30 pm (some flexibility) The Role
Read More »
At Fly High Media, since 2016 we have been providing Google Advertising services across many different sectors including; financial services, professional services, education, health and social care, events, pharmaceuticals, ecommerce
Read More »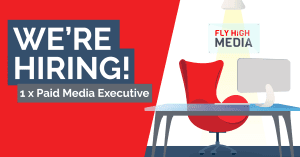 Position: Paid Media Executive Location: Hooton, Cheshire, CH66 7NZ Salary: DOE Contract: Full time, permanent Hours: Mon – Fri 9am to 5:30 pm (some flexibility) The Role We are seeking
Read More »
The key to good SEO is a good experience on all devices. This is because in 2020, 55% of all worldwide online traffic came from a mobile device, whilst 42%
Read More »
Fly High Media are delighted to announce the appointment of Denis Brzozowski as their new Client Account Manager. As an experienced digital marketer, Denis brings a wealth of experience and
Read More »
The January sales create a high volume of online retail activity, so this means there are lots of opportunities for your ecommerce business to succeed during this period. The digital
Read More »
It's Been a Good Year at Fly High Media… For Business: As the year draws to a close, we are pleased to reflect on what a successful year it has
Read More »
Brand awareness is defined as how familiar people are with your brand and the products or services you offer. Brand awareness can be divided into three layers: 1. Awareness of
Read More »
Recently we thought we'd take a look around the offices at Fly High Media, and get to know the fantastic staff behind the operation. For our second edition of 'A
Read More »
Amazon sells more than 75 million products on its platform. To sort through this platform, it needs a robust search engine. Thankfully, Amazon delivers an impressive solution to find the
Read More »
Google has announced that they are renaming 'Google My Business' to 'Google Business Profile'. The move is designed to completely reshape local SEO by extracting business profile management away from
Read More »
SEMrush has launched a new feature that allows you to view the intent of keywords quickly and easily. If you are an avid user of SEMRush like we are here
Read More »
At last week's Facebook Connect 2021 conference, founder and CEO Mark Zuckerberg announced that the company will no longer be called Facebook, and is now called Meta. Explaining the great
Read More »
You might not know, but approximately 81% of businesses use video as one of their most effective marketing tools. And then there's this staggering 97% of the marketers claiming that
Read More »
Recently we thought we'd take a look around the offices at Fly High Media, and get to know the fantastic staff behind the operation. For our first edition of 'A
Read More »
Internal Linking is a vital part of helping both users and search engines navigate around your website. Using internal links can help Google build up a hierarchy of pages on
Read More »
Have you considered Facebook advertising for your business before? Maybe you are exploring different potential avenues to promote your business online and you are weighing up the pros and cons.
Read More »
Blogging remains a powerful avenue to increase organic traffic to your online business. In fact, marketers who prioritise blogging are 13x more likely to have a positive ROI on their
Read More »
We all have mental health just as we have physical health – and like physical health we need to keep it in check. Considering how much time we spend at
Read More »
The keyword research process is crucial for any content to be successful online. Whether it is a blog or a service landing page. Utilising the right keywords and variations is
Read More »
Cheshire Phoenix Basketball team are hoping to fly high in the British Basketball League (BBL) this season with continuing sponsorship and support from local digital marketing agency, Fly High Media.
Read More »
In 2020, ecommerce sales accounted for 18% of all retail sales worldwide, a steep increase from the year before, which was 13.6%. The share of ecommerce sales is expected to
Read More »
Following the COVID 19 pandemic, many businesses started to take SEO more seriously as one of the more long term, sustainable and profitable marketing channels. That being said, this has
Read More »
Every blog post is an opportunity to get your business in front of potential clients and customers. You want your articles to be engaging enough that readers will enjoy the
Read More »
The pandemic has forced businesses to pivot from the physical world and into a digital one, leaving many businesses unprepared. Despite this, consumer expectations to provide exceptional customer service experiences
Read More »
Pay-per-click advertising using Google Ads is a fantastic channel that has helped to accelerate the digital revenue of millions of businesses around the world. But what should you do if
Read More »
Google is a competitive space and especially in map listings. A well optimised profile and Google on-page Local SEO not only does it make you stand out, but it will
Read More »
Fly High Media are delighted to announce the appointment of Leanne Cunningham as their new digital marketing assistant. As an experienced graphic designer, Leanne brings a wealth of creative skills
Read More »
Developing a successful link building strategy takes time, and there are a lot of methods to consider. One of the first methods that should be considered is broken link-building. If
Read More »
There's a lot of potential for success when you run an ecommerce store, especially now, when more people than ever before are buying online. But of course, while the online
Read More »
Customers have certain expectations when it comes to the online checkout experience. Make it too difficult and they will shop elsewhere. This is because customers are now conditioned to expect
Read More »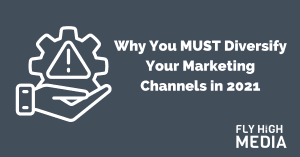 2020 taught us that digital marketing is essential for almost all businesses large and small across almost every industry. The shift saw an increase in ecommerce stores being created from
Read More »
Fly High Media are delighted to announce the appointment of James Lovick as SEO Executive. James brings to Fly High Media a wealth of SEO marketing experience. Since graduating from
Read More »
The digital marketing industry lives and breathes acronyms and buzzwords, so we've put together the ultimate guide to help you dissect the many different terms used by digital marketers. Our
Read More »
Trust is one of the most important factors in increasing conversions on your website. If you want to build rapport with your website visitors and get them to convert into
Read More »
Looking to write a landing page that converts into sales or leads? This is called conversion copywriting. It's the art (and science) of writing copy that increases conversions. The right
Read More »
Link-building should be an important part of your SEO strategy. If you're trying to get your ecommerce store to rank higher on search engines, you need to acquire some high-quality
Read More »
Asking yourself – "why should I use Woocommerce?" Don't worry – you're in good company. Online sellers around the world are thinking about using Woocommerce. Aside from Shopify, it's the
Read More »
Liam Quinn from Reach Interactive shares some insights on how businesses can use SMS marketing successfully.
Read More »
Letting customers slip through the net when they visit your store and don't purchase anything can be a real headache for Shopify store owners.  Conversion rate optimisation helps fix this.
Read More »
In September of 2020, you might have updated your Apple Software to iOS 14, as suggested, and noticed beautiful design changes to your home screen and widgets. Behind the scenes,
Read More »
From being a street artist to an augmented reality artist, Doddz has done it all. Doddz joins Matt to talk about some of his creative work and commissions as well
Read More »
Every year we make resolutions, perhaps to join the gym, visit a new country, or learn a new language… but what about resolutions for our business? Once we've eaten our
Read More »
Liam is the Head of Marketing at Reach Interactive who are an industry-leading Bulk SMS marketing platform with clients such as Anytime Fitness, the NHS, Sports Direct and Hermes. SMS
Read More »
Jonas is on a mission to help get people fit and healthy by helping people discover participation opportunities via his app, Orfi Active which he founded in early 2019. It
Read More »
Devising relatable content while having little idea of what Christmas will look like this year is a difficult feat. In these times, rarely has there been a better time to
Read More »
"If a tree falls in a forest and no one is around to hear it, does it make a sound?" You could be selling the best products imaginable, but if
Read More »
Over the last few years, I've had the opportunity of speaking with lots of prospective clients running many different types of businesses.  In this article, I have compiled some of
Read More »
Which is more important, SEO or Content Marketing? It's an ongoing debate in the marketing world, almost like "Which one came first – the chicken or the egg?" Instead of
Read More »