The 12 Best SEO Practices For Your Ecommerce Website in 2023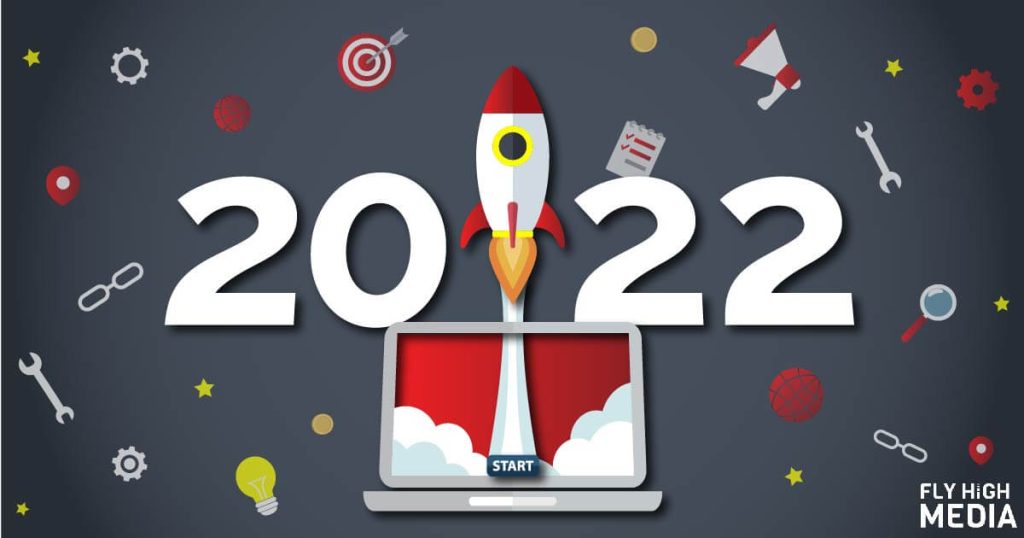 The January sales create a high volume of online retail activity, so this means there are lots of opportunities for your ecommerce business to succeed during this period.
The digital world has greatly benefited from shoppers spending their hard-earned cash on products and services in the last 10 years. After all, 87% of all UK consumers make their purchases through the world wide web, rising from 62% in 2010, so there has never been a more important time to boost your online presence.
But the question is, how do you capitalise on the growing online market in the new year? The quick answer is you simply cannot achieve ecommerce success without using vital SEO techniques to increase your online presence and sales.
These are the 12 best SEO practices that you need to use to increase conversions for your ecommerce business in 2023.
1. Conduct Keyword Research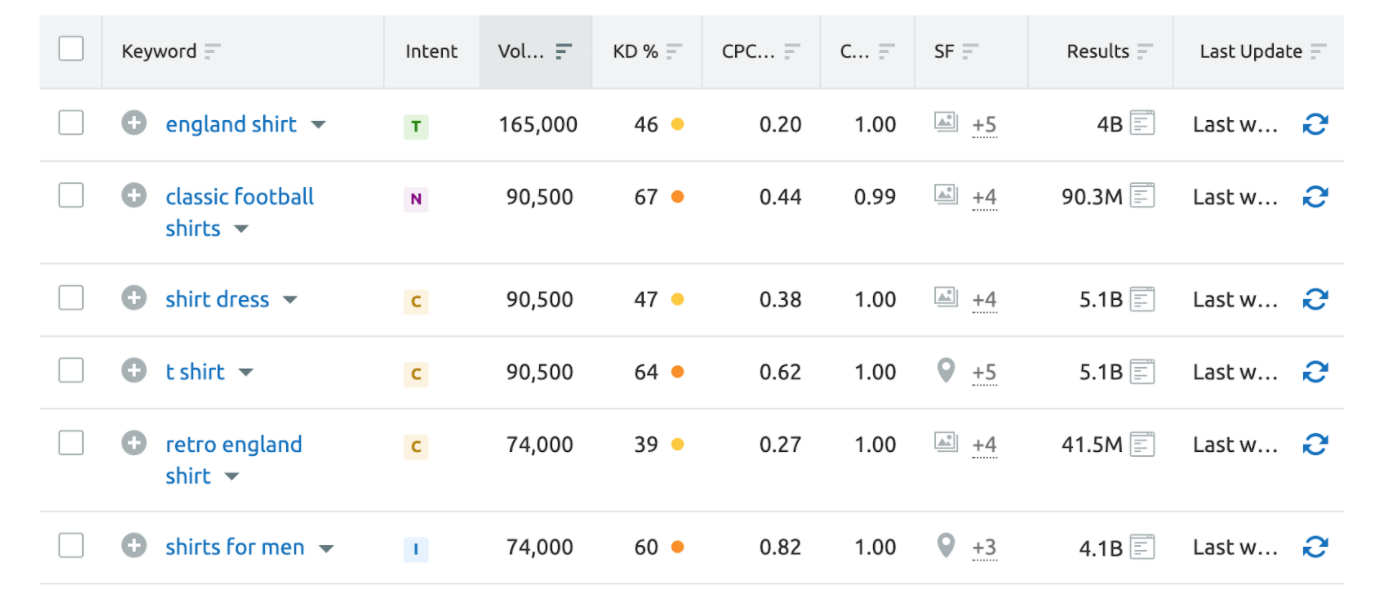 It is essential that you understand what your target market is searching for on Google. Not only should you be making sure that you are maximising the organic traffic potential for your product pages, but you should look at what other areas of your website you can use to increase your search rankings such as additional blog content targeting keywords that users are searching for.
For example, if you use a tool like SEMrush and you search for 'Shirts' in SEMrush's 'Keyword Magic Tool', you will be presented with a list of potential phrases you can target on your website to increase traffic. If you target keywords that have a high search volume and low KD (keyword difficulty), then you are likely to have a chance at bringing in some relevant users to your website.
You can also use SEMrush's Keyword Intent tool to target 'Commercial' or 'Transactional' users, as they are more likely to be searching for a brand, service or product that they want to purchase, meaning you are increasing your chance of a sale on your site.
2. Use Google Search Console to Enhance Your Website's Metadata
You might have a big website which means it will be very time consuming to improve the metadata of every page on your site. However, using Google Search Console can really speed this process up by prioritising your pages.
To do this, click on 'Performance' on the menu on the left hand side of the Google Search Console interface.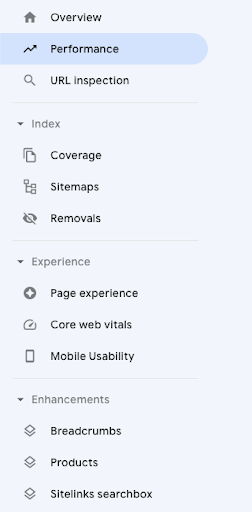 Then, click on 'Pages'. From here, you will have a list of all of your web pages with the number of impressions and clicks on there.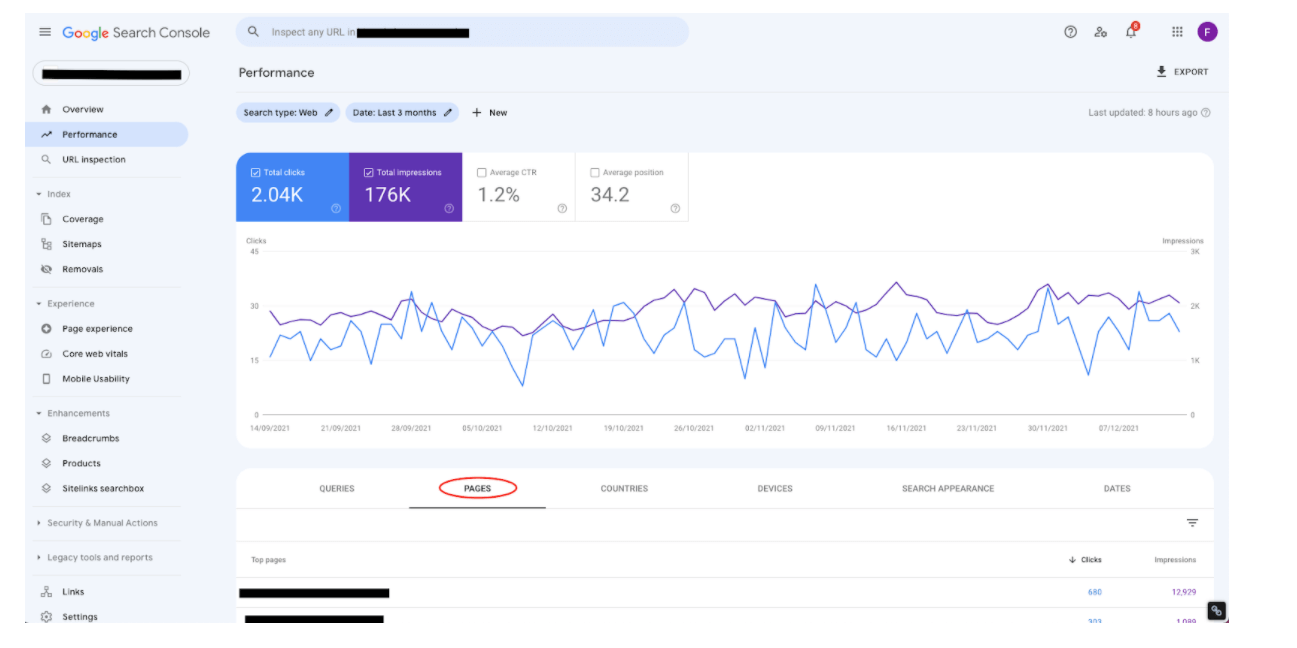 You will want to make sure you have a relevant date range selected. I usually make sure that the date range selected is 'Last 3 months', but you can alternate this to a different range or a custom timeline.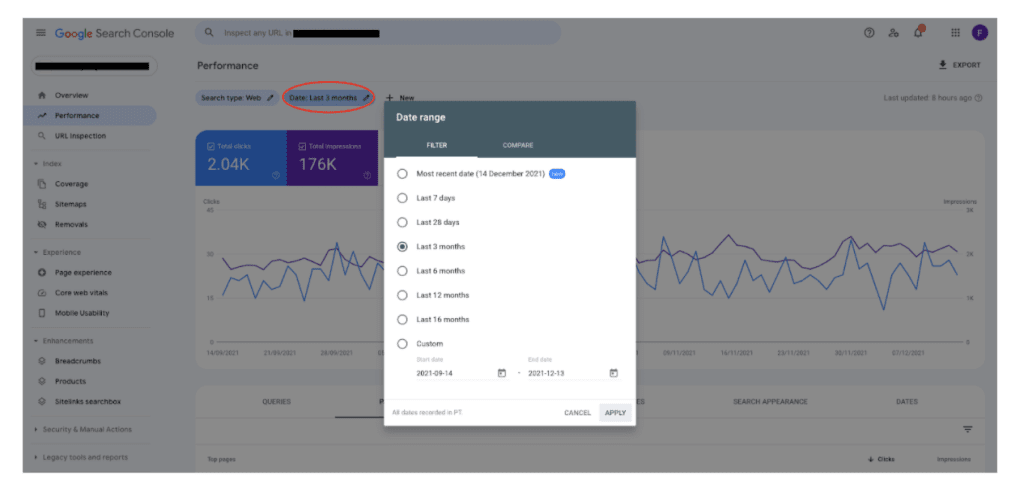 The next thing you will want to do is filter your data. Click on the '+ New' button and click on 'Page'. From here, you can specify what pages you want to appear by entering a keyword filter e.g. Shoes.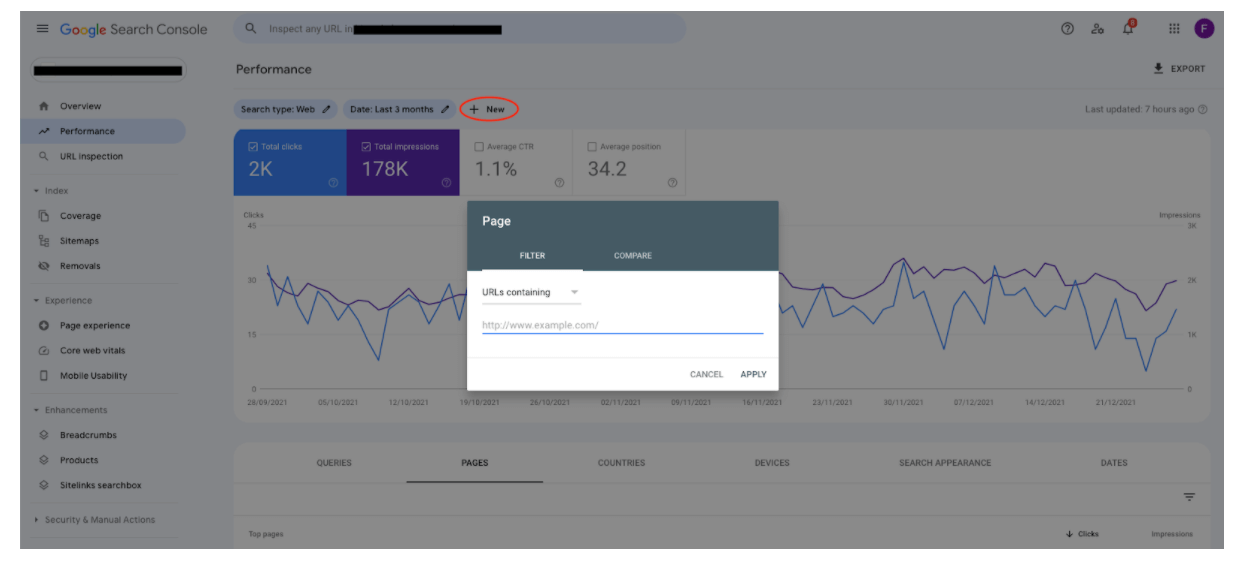 Finally, you want to extract the data. Click on the 'Export' button and you can either save the data as a Google Sheet, Excel file or a CSV depending on what software you use.
Once you have your data, Delete all of the tabs excluding 'Pages'. You can then search through the pages that have high impressions and low clicks.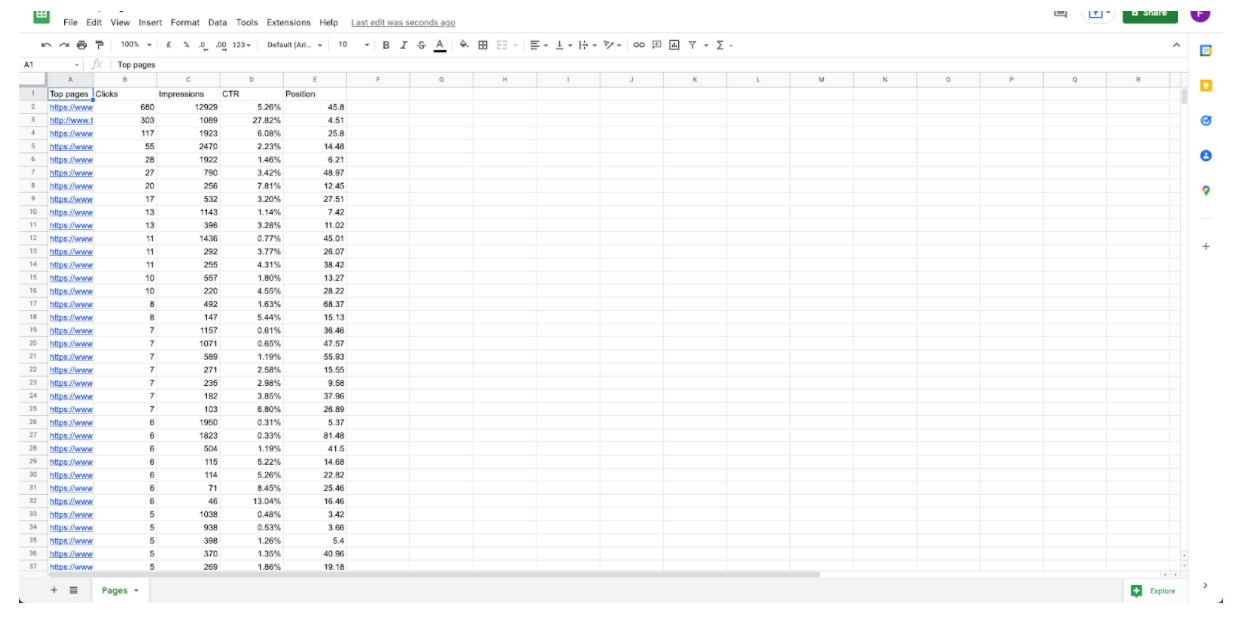 To make this quicker you can filter your data, for example on Google Sheets you can highlight all of your data and then click on the 'Data' button on the toolbar. From here, click on 'Create a Filter' and then click the new filter icon on the 'CTR' tab. You should then untick any number that is above '5.00%'.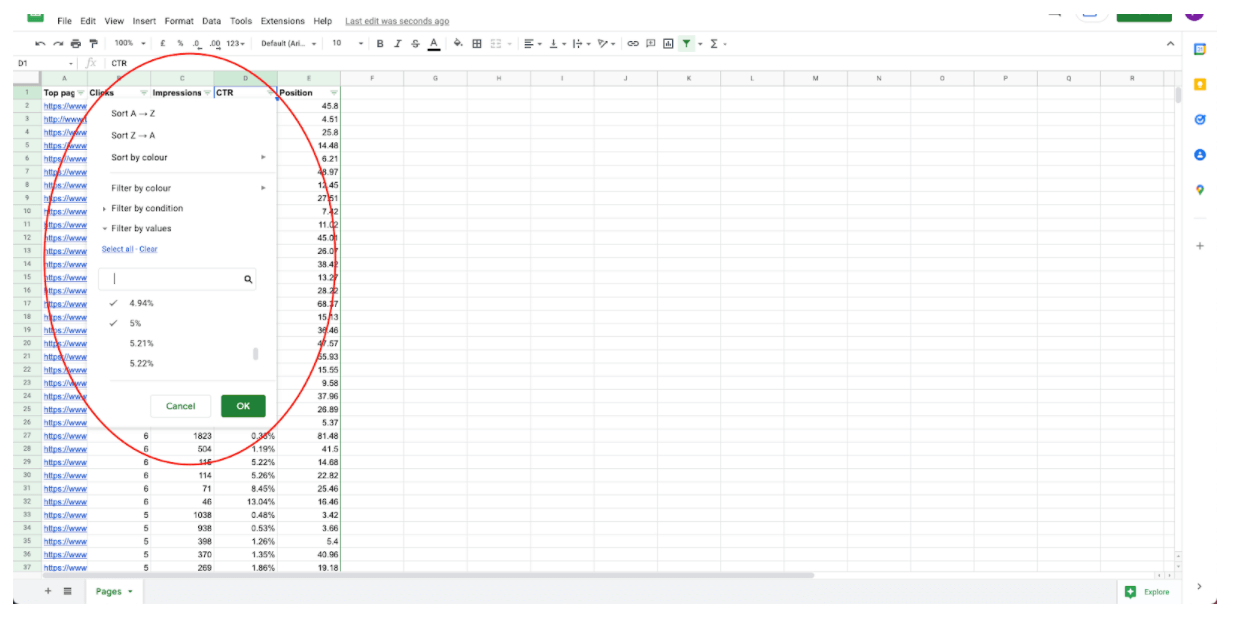 These are the pages on your website that people are seeing on Google, but for some reason they are not clicking on your page which indicates the meta title and description is not enticing.
3. Landing Pages
This can be a great quick win, particularly at this time of year. For example, creating and promoting January Sale landing pages on your ecommerce website is a great way to maximise your online presence for your product pages. For your landing page, you need to include target keywords in your:
– Metadata (meta titles and description)
– H1 Tags (main headers)
– Intro paragraph
– Anchor text (internal links to relevant pages)
Whilst these landing pages will be solely created promoting your products and services, you should not delete them as this will lose all SEO value and link juice that has been acquired to the page from external sources. You should remove your page from the navigation and keep it live on your website and sitemap.
4. Schema Markup
Schema markup (also known as Structured data) provide search engines with information about the content on a webpage. When a search engine crawls a page, it uses the structured data within the page to generate a feature called rich snippets. These are informational sections within search results that provide further details to the user.
Common examples of structured data rich snippets within search results include:
– Blog content (these rich snippets usually include answers to questions that users search for)
– Promotions and pricing
– Reviews
– Recipes
Previous
Next
Once you implement structured data on your page, not only can it impact your search result rankings but it can also attract more relevant organic users to your website and have a positive impact on your CTR (Click Through Rate).
5. Mobile UX
You need to make sure you have a top user experience for your website's mobile users. This is because in recent years, Google has begun to make updates that prioritise mobile user interactivity above desktop. This is because 52.2% of all website traffic is generated by mobile users. And if that wasn't enough, 61% of online consumers say they are more likely to make a purchase from mobile-friendly websites. That is why it is essential to make sure your website can be used on all devices, and not just on a desktop.
You have to make sure that your website has code that provides a mobile template. Alternatively, if your website has a responsive design that responds to smaller screens and removes complex page elements, this will also be favourable for your user experience. In turn, this will have a positive impact on your SEO.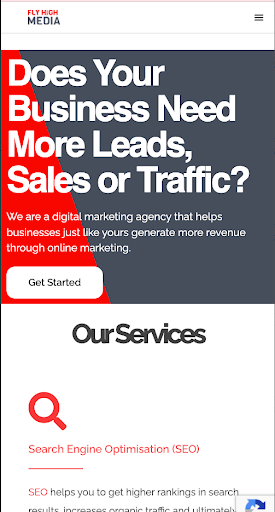 6. Increase Page Speed
Enhancing your website's page speed can be the difference between you beating your competitors or falling behind them.
Think about it. When you browse an ecommerce website to do your online shopping, you will only stay on a page that loads quickly. If it takes too long for the page elements to load, you will simply browse another similar site that is quicker and also sells the products you are looking to purchase.
You can assess how fast your website is by using Google's Page Speed Insights tool. Once you enter the URL, it will score your page out of 100 for desktop and mobile. To make sure your website's user experience has been optimised, you want to make sure that it is a minimum score of 90 for both.
If the score is below 90, this could be largely down to poor core web vitals. To review your outstanding website speed issues, you can use the 'Core web vitals' tool in Google Search Console and ask a developer to fix any outstanding problems.
7. Create links to your content
One thing that can really boost your website's domain authority is by rewriting your website's existing blog/article content and submitting them as guest blogs on other industry relevant websites with a link back to your own site. This is a common off-page SEO practice that can give a big boost to the number of organic visitors to your website.
There are two types of links you can acquire:
– DoFollow – This provides link juice to your website's domain authority
– NoFollow – This doesn't provide any link juice
Whilst you ideally want a DoFollow link, a NoFollow link is still positive as it is an opportunity for users on another website to find your own domain and browse your products.
8. Local SEO
If you have an ecommerce website but you also have an actual store on the high street, it is essential that you optimise your Google My Business page for local SEO. Not only can this increase your online visibility, but it can increase both online and offline sales to your business.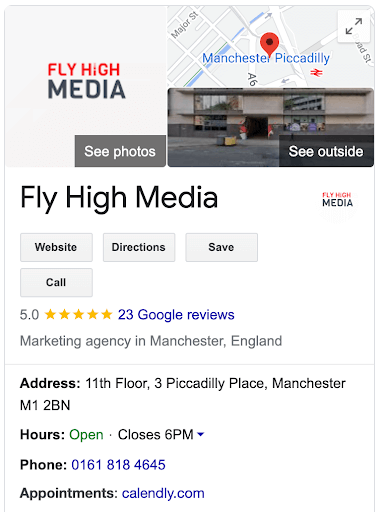 Some quick wins for optimising your local SEO are:
– Encourage your customers to leave reviews on your Google My Business profile once making a purchase.
– Reply to customer reviews, whether positive or negative. This shows you are attentive and willing to go above and beyond to solve problems.
– Optimise for Google's voice search by using long-tail keywords and implementing schema markups on your pages
– Research and implement local keywords (SEO tools such as SEMRush and Ahrefs can help with this).
– Add an 'About Us' page that includes the location(s), opening times and contact details of your store(s). Also implement Google Maps on this page to specifically pinpoint where you are located.
– Implement backlinks on local directories
By implementing these features, you are more likely to attract local customers to your business which can be the difference in beating your competition.
9. Promotions and Offers
When you think about SEO for your website, you might just be thinking about the number of visitors to your ecommerce store. However, it is also crucial that you target conversions and sales as well. After all, this is what will generate income to your business.
Not only do you want to outdo ecommerce competitors with your product, but you also want to make more sales than them. The best way to do this is to generate offers to potential online customers that will make them purchase your product from your website instead of another.
The best ways to include special offers and promotions is by implementing the following to your website:
– Exit popups – When a user moves their cursor towards a part of the page where they can exit the website (e.g. the close window or close tab button) an exit popup appearing with an offer might entice them to remain on the page to make a purchase.
– First-time voucher code – Implement this when a new customer is in the checkout section of your website. This might persuade them to make repeated purchases from your store in the future.
– Free delivery – If you can cover the delivery costs, it might be the difference between a customer purchasing from your website instead of a competitor's ecommerce store.
10. Implement CTAs (Call to Action)
Every page on your website should include a CTA to encourage customers to make a purchase. These should already be on your product pages, but you can even include this on blog posts by adding a 'Suggested Products' gallery on the side of your page. This can be even more effective if you track your customers' journeys and understand what they would like to purchase based on user behaviour.
It is also good to include a submission form so that your customers can sign up to your mailing list. This means you can send them emails with the latest promotions and product updates, which can generate more traffic and sales to your website.
11. Conduct a Technical SEO Site Audit
Whilst on-page and off-page SEO is essential for your ecommerce website's success, you also need to make sure your site's technical SEO is fully optimised. This can have a huge impact on user experience, and if this is not at the level it should be then your online users might shop elsewhere.
You can conduct a technical SEO audit on SEO tools such as SEMRush or Ahrefs. This can help you to understand what outstanding technical issues there are on your website, and the severity level of each problem. From here, you can develop a spreadsheet to define and prioritise your issues.
To run a technical SEO site audit, you need to:
Use a tool such as SEMRush. From here, click on the 'Site Audit' tab in the dashboard menu.

Click on 'Add new project' which is located in the top right hand corner of the page.
You are then provided with a list of settings that you can alter to meet your specifications, such as:
– The number of pages you want the site audit crawler to review.
– Which user agent you want to crawl your website e.g. SEMRush's SiteAuditBot, GoogleBot etc.
– Which URLs you want to allow or disallow for crawling
– Which URL parameters you want removing
– Whether you want the crawler bot to bypass the 'disallow' instruction in your website's robot.txt file/meta tag
– How often you want your website to be crawled for your site audit e.g. daily, weekly etc.
Once your crawl has been conducted, you are then presented with a list of 'Errors', which are the most severe technical problems with your website.
You will also have a list of 'Warnings' which are issues that aren't as essential but still need to be fixed to improve your technical SEO.
Finally, you will have a list of 'Notices'. These are not issues that always need to be addressed, but fixing them could potentially have a positive impact on your website.
12. Don't Forget About Social Media!
Many people don't realise how important Social Media can be to your ecommerce efforts. It is important to remember that likes can turn into sales if you provide good content on Facebook, Instagram, Twitter and other social media platforms.
Including links to your blogs, product pages and promotion pages will only have a positive effect on your website and sales. Make sure your content is relevant, engaging and contains keywords that are linked to the product you are selling. You will only see good results come from this practice!
For more help with ecommerce SEO and digital marketing, fill in the contact form below.
Let's find the best solution for your business