5 Things Every E-commerce Store Could Learn From Pretty Little Thing's Social Media Marketing
As an online powerhouse, Pretty Little Thing (PLT) has prospered in the fast fashion market.
Generating an annual revenue of over £700 million and counting, PLT is a great example of what an innovative social media marketing strategy and a distinct brand image can do for your business.
Fast fashion is a popular market, so what sets PLT apart?
Their strong commitment to body positivity and inclusivity, as stated in their mission statement: "We aim to inspire confidence in our customers when it comes to how they dress and present themselves to the world, endeavouring to build a community of #EveryBodyinPLT." A mission statement provides a business with purpose and direction towards its long-term goals.
In this blog, we'll uncover valuable social media marketing approaches, from the fashion brand, that can be attributed to any e-commerce business.
1. A Consistent Brand Image
Being consistent with branding is crucial to the success of any business, especially one which relies so heavily on social media for sales. Every caption, image, video and post has a consistent voice and aesthetic throughout PLT. This branding is consistent across all social platforms.
Consistent Colours
Pretty Little Thing uses bright, pastel colours – particularly pink – in its branding and social media. This gives a bold, fun and girly look to their brand, appealing to their target audience, increasing engagement and driving sales. Once you find your brand colours, stick to them. This will help your posts to be more recognisable to your customers.
Tone of Voice
Sticking to the same tone of voice is a huge part of the success of your brand image. This often depends on your type of business. For example, PLT uses a friendly and lighthearted tone to appeal to their audience and mirror their brand. 
They engage their audience through Instagram polls, direct addresses in captions and questions on all platforms, which adds to the sense of community and friendliness of the brand voice.
They Adapt to the Platform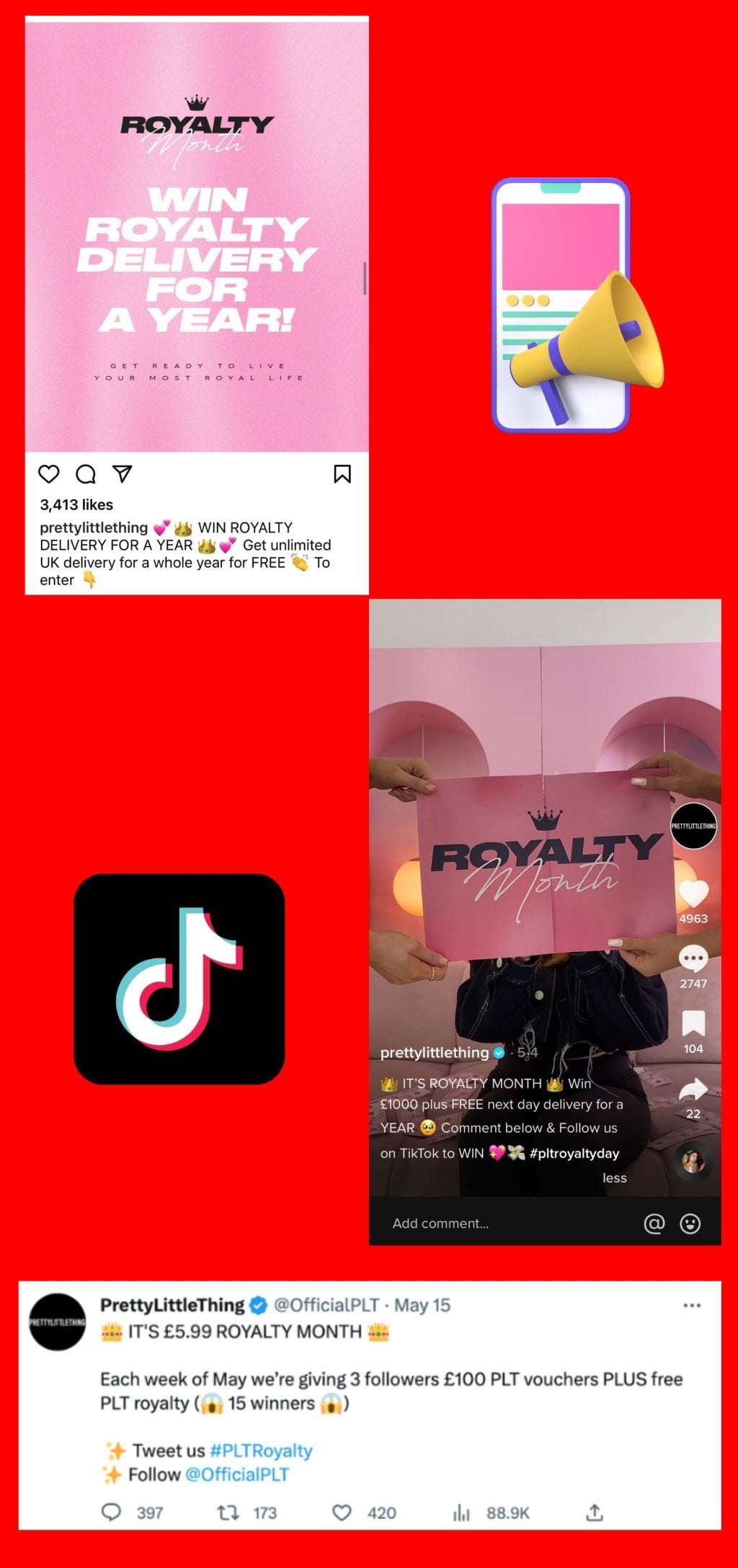 PLT maximise their social media presence by adapting its content to fit the particular platform. Campaigns are shared across all platforms, however, captions, images and text are often tweaked across Instagram, Facebook and Twitter. For example, in honour of PLT's Royalty Month, they have posted similar competitions on TikTok, Instagram and Twitter, but in different forms which suit the particular platform:
On TikTok and Instagram, they use the Royalty logo and the same copy: "Royalty Month". However, the captions and media styles differ. TikTok uses a video with a different caption and slightly different reward (£1000 on top of free next-day delivery for a year) whereas the Instagram post has text on the image, and is offering only free next-day delivery for a year.
Twitter uses the same caption header ("Royalty Month") and offers the same prize as TikTok to grab followers' attention.
Although these posts are different, they use the same branding, copy, emoji use and tone of voice, and relay the same information. Adapting this competition post to best suit the platform allows the post to reach its full potential across social media.
However, they haven't posted this competition on Facebook, which may be because it is used significantly less by PLT's target age group than other platforms. 
2. They Target Their Audience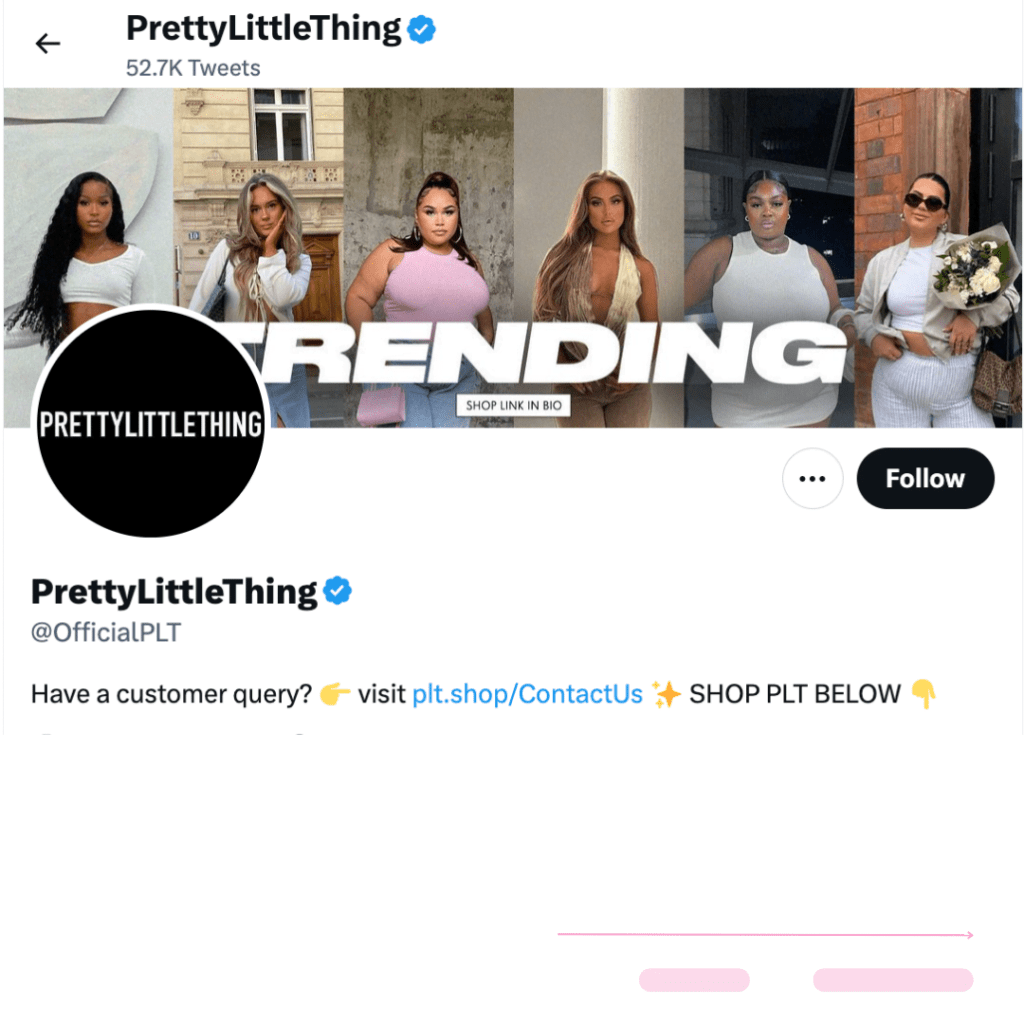 PLT targets women aged 18-24, clear by their use of pink across the brand and use of writing. They have captions on social media that directly address females ("manifest alllll those dreams girl"). They offer a range of sizing on their website, including all body types, and have "plus sized" and disabled models which shows that the brand does include all.
On Instagram, their slogan #EveryBodyinPLT is written in the bio, suggesting anyone can wear their clothes. They encourage their followers to use this hashtag to drive the movement and ethos.
Their cover photo on Twitter and Facebook features models of various sizes and appearances. This once again promotes inclusivity, showing their customers and target audience that everyone looks good in their clothes, no matter their size, ethnicity or style. However, in this instance, PLT seems to be sticking to their target age group as these models look to be within the 18-24 demographic.
They also post content that isn't related to their products but targets their demographic. Celebrity news, relatable tweets and memes are shared across all platforms to keep up customer engagement. They participate in popular TikTok trends helping them to stay current and relatable to their target audience.
3. Use of Influencer Marketing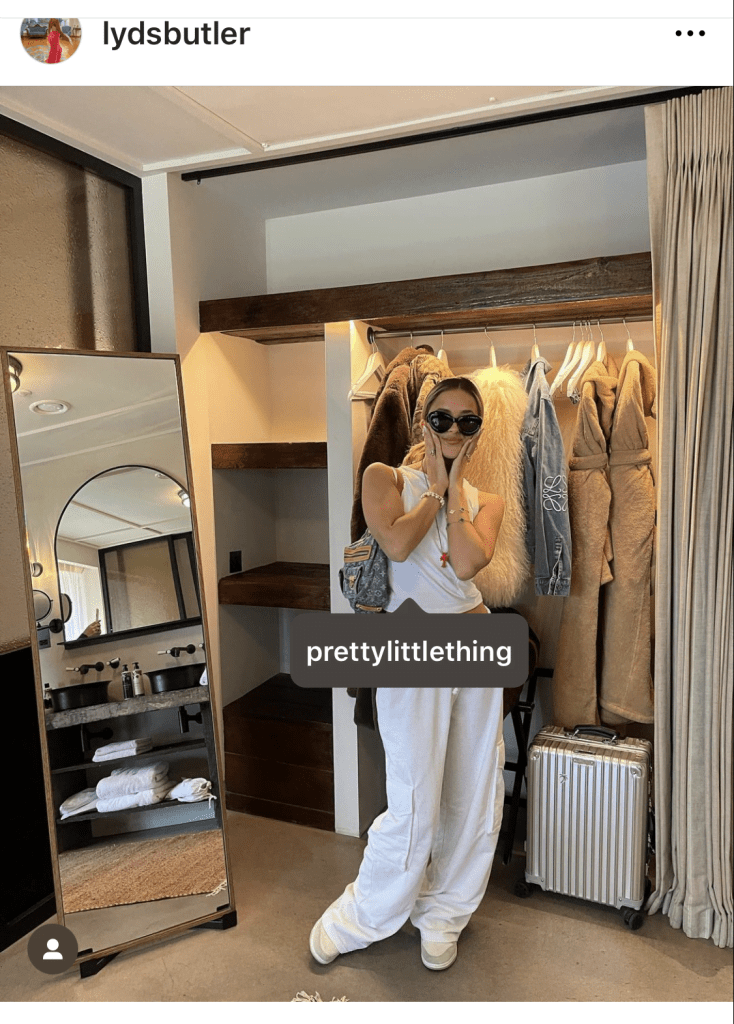 PLT have over nine celebrity ambassadors and 300 social media influencers and affiliates promoting their clothing and accessories. These influencers align with the brand and have thousands (if not millions) of followers within PLT's target audience who trust their opinion. Using paid collaborations and brand ambassadors boosts sales by allowing their products to reach wider audiences and build their reputation into a desirable brand everyone wants to wear. 
Influencers often post TikTok's of them in an item of clothing that soon sells out due to the popularity. Everyone wants their hands on the "viral" PLT corset top, for example, increasing desirability and demand.
Fashion influencer and PLT model Lydia Butler frequently posts pictures on Instagram of the latest Pretty Little Thing clothing, tagging the brand. She also has a highlight labelled 'PLT Links' making it easy for her followers to shop her collaborative looks.
An influencer aligning with your brand can boost an e-commerce store by expanding your reach and promoting products their followers might buy. Their content can build trust and credibility, as well as help to keep your brand current in this age of social media/influencer culture.
4. Use of User-Generated Content and Engage Their Customers
TikTok and Instagram are huge for user-generated content and customer engagement. TikTok has revolutionised the term 'user-generated content' and focuses on community, engagement and creativity. Micro-influencers and regular TikTok users promote items, such as clothing and beauty products, often without trying. TikTok comments allow users to ask the video creator where their outfit is from, who will often reply with the brand, clothing name and sometimes even the product code.
Pretty Little Thing hosts competitions to engage their customers and create a buzz. A typical Instagram competition by PLT will have followers sharing their posts on their stories and engaging with the post. This often leads to more profile views and product interest, generating sales.
They also use hashtags on Instagram, TikTok and Twitter, which engage their audience, increase the post's reach and broaden their audience.
5. Using Targeted Paid Ads
PLT ensures its ads are seen by relevant viewers likely to shop from them. Their ads match the brand by being creative, colourful and using captivating copy. They schedule their ads at peak social media engagement times to current and past customers. Using cookies enables them to target people who have shown previous interest in their products to encourage them to buy.
They also employ Pay Per Click Advertising (PPC) and SEO, which every business can use to boost their visibility and sales.
Targeted paid ads can boost your e-commerce business by reaching an audience more likely to have an interest in buying your products. These strategic ads can be analysed to measure the return on investment (ROI). This measure allows businesses to adapt their ads accordingly for further success in sales.
Pretty Little Thing targets its marketing efforts on social media because they understand it is used hugely by its target audience, especially TikTok and Instagram. We live in a social media age, so online businesses need a solid social media marketing strategy for the best results. Make use of influencer marketing and keep up to date with the latest trends on social media to stay current and increase your brand's awareness.
Interested in Social Media Marketing? Contact Fly High Media today!
Let's find the best solution for your business