A Day in the Life at Fly High Media with Leanne Cunningham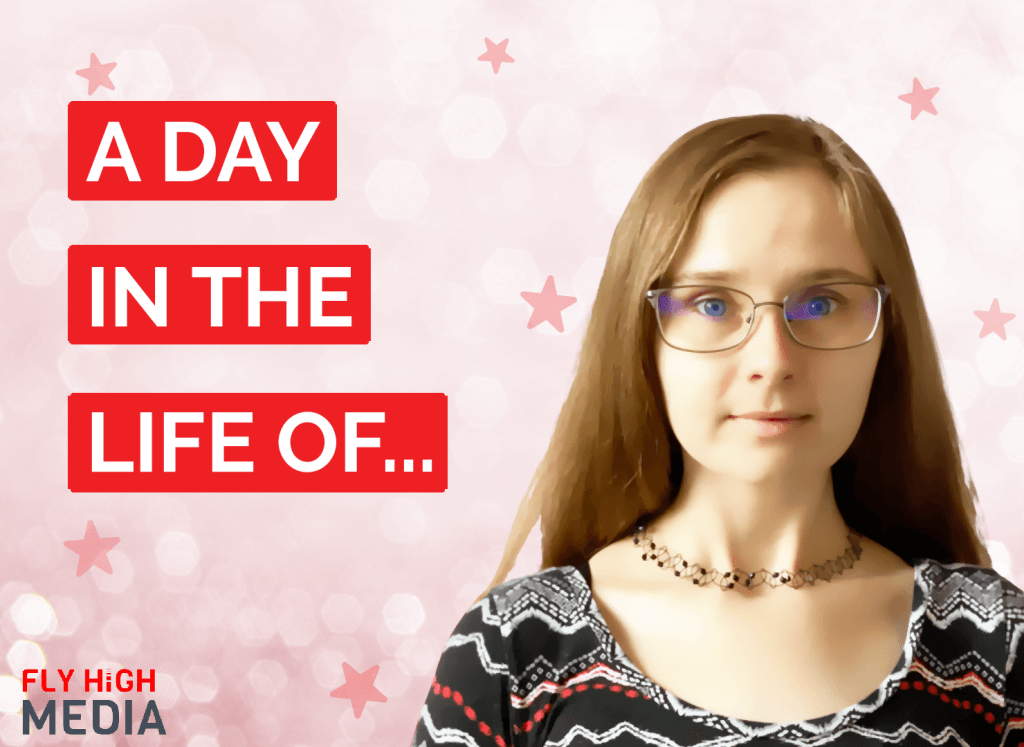 Recently we thought we'd take a look around the offices at Fly High Media, and get to know the fantastic staff behind the operation.
For our second edition of 'A day in the life of' we spoke to Leanne, who is a graphic designer and digital marketing assistant, to see what a day in her working life entails.
It's 9am, how do you start the day?
We usually begin the day with a chat and a catchup before getting down to business. I feel lucky to be part of a team I really get on with and share common interests with.
I'll then make myself a coffee (usually the second of the day), and take a look at my set tasks on Asana. Once I know what needs to be done for the day and in which order, I'll fire up Adobe Creative Suite and get cracking.
It's now late morning and lunchtime nears, what have you been working on this morning?
I work on all sorts here at Fly High Media: from designing visual marketing material for clients, to working on internal marketing campaigns, to writing blogs and conducting marketing campaign research and analysis.
Most recently I have been focusing on developing our internal marketing efforts to suit the recent growth of Fly High Media, as well as creating exciting and informative email newsletters for our brilliant followers.
We release all sorts of material, including: videos, animated cartoon shorts, full-page infographics, and educational and insightful blogs, tips and tricks for anyone looking to develop their online business. It's a great pleasure to be able to personally design and create these as they go to great use as free, educational resources.
Lunchtime, finally! How do you spend your lunchtime?
Some people at Fly High Media like to spend their lunchtimes going for walks and getting out for a bit for some fresh air and change of scenery, but I'm quite happy just relaxing on our comfy sofas scrolling through social media and perusing YouTube.
We also have magnetic darts and mini golf to play if it takes our fancy, and Matt might have a deck of cards handy to show off some card tricks.
We're a chatty, close-knit team so if there's nothing good on YouTube, or if we have exhausted playing darts, there's always someone around to converse and have a laugh with.
With lunch over, it's time to resume work. What does this afternoon have in store for you?
At this stage I am usually nearing completion of all prioritised projects for the day. In the afternoons I often focus on tasks such as scheduling and releasing content to social media, video editing and finalising email campaigns. I like to double, triple check all my work before submitting or releasing it, as you can never check it over too many times!
What topics do you chat and connect with colleagues over?
Our team has a lot of shared interests which is awesome. As a big fan of video games I like to chat about gaming with my colleagues here, but we also discuss recent digital marketing and technology news and updates. Our offices seem to contain quite a few film buffs, so we also converse about our favourite films and the latest cinema releases a lot. It's really fun!
Truthfully, have you enjoyed your time at Fly High Media thus far?
Absolutely – I daresay it's the best job I've had. I'm rather new to the realm of digital marketing and my more experienced colleagues are always on hand to give me all the support and guidance I need. I have learned so much already, and I am excited to keep growing as an integral member of this team. I look forward to seeing what the future holds for Fly High Media, and my place in its continuous development.
Want to get in touch with our brilliant team to discuss how we can increase traffic to your online business? Fill in the contact form below.
Let's find the best solution for your business