What Are The Black Friday 2022 Statistics?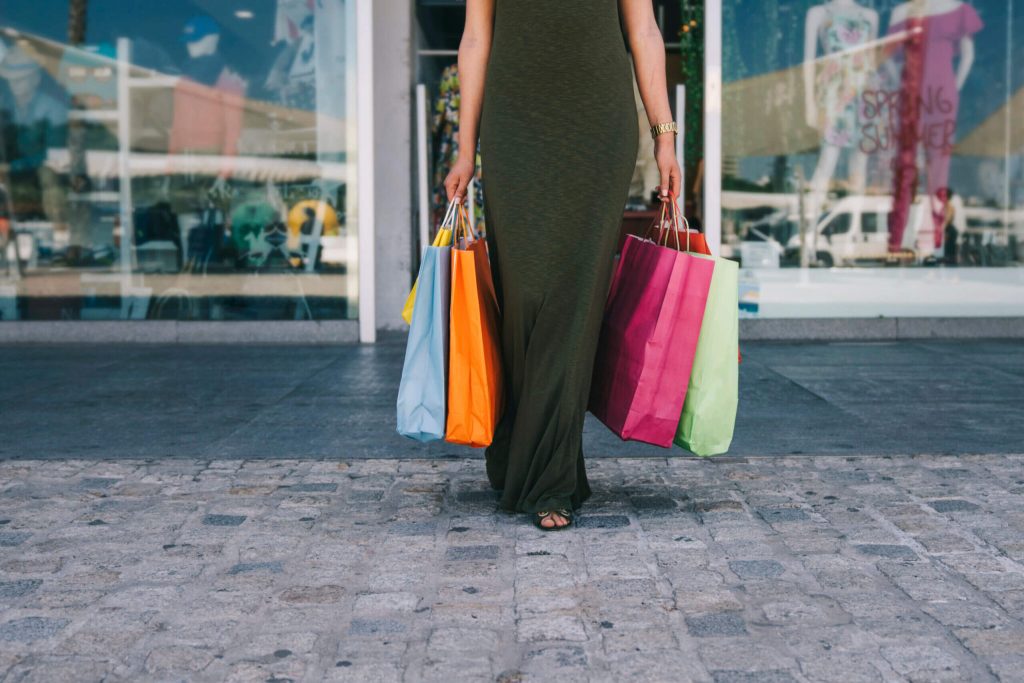 Black Friday 2022 sales are continuing, but as most of you probably know, the peak of Black Friday sales was on 25th November. So, we researched how the event played out this year, comparing the statistics of 2022 to those of previous years. 
For various reasons, Black Friday 2022 was predicted to be a tumultuous event. This was due to Covid-19 restrictions having eased, meaning more people were able and willing to go out and shop. 
However, with rising inflation impacting the UK, it was difficult to gauge whether people would have any disposable income for Black Friday, or if they would be more inclined to seek a Black Friday bargain to save money over the Christmas period.
Before we reveal the statistics of Black Friday 2022 we would like to delve into where Black Friday derived from and why.
What is Black Friday?
The UK only became familiar with Black Friday after Amazon introduced Black Friday sales to the country in 2010. However, the public did not thoroughly embrace Black Friday until ASDA took part in the event in 2013. The years that followed showed more and more retailers getting involved, helping Black Friday to grow bigger in the UK.
But where does the term 'Black Friday' come from? Well, there are many theories.
Some people believe the term refers to when businesses were 'in the red', operating at a financial loss until the day after Thanksgiving, at which point the huge sales would put them back 'in the black'. The idea behind this term was spread by retailers during the 1980s in the hope that it would boost their sales. Now, it has evolved into the big shopping event we know today. 
However, the term 'Black Friday' was not always synonymous with shopping. For example, it was used by the Philadelphia police in the 1960s. They are believed to have used the term to describe the day that tourists flocked to the city to do their holiday shopping, creating bedlam on the streets.
Also around this time, factory managers are said to have referred to the day after Thanksgiving as Black Friday since it was the day a lot of their workers would phone in sick.
To conclude on the history of Black Friday, it is most likely that the familiar term was coined even further back than the 1960s, but because it has been used to reference many occurrences it is difficult to accurately pinpoint its origin. 
In recent years, the 'from red to black' theory is one that shoppers can relate to since bagging a bargain in the Black Friday sales can help to put everyone 'back in the black'. 
Black Friday 2022
Although many predicted that this year's Black Friday would not be as successful as previous ones, it turned out to be the biggest day for online sales with many retailers receiving record-breaking revenue.
We have gathered together some of the key Black Friday statistics of 2022 and we have provided further insight into each one later in this blog.
Black Friday 2022 Shopping Habits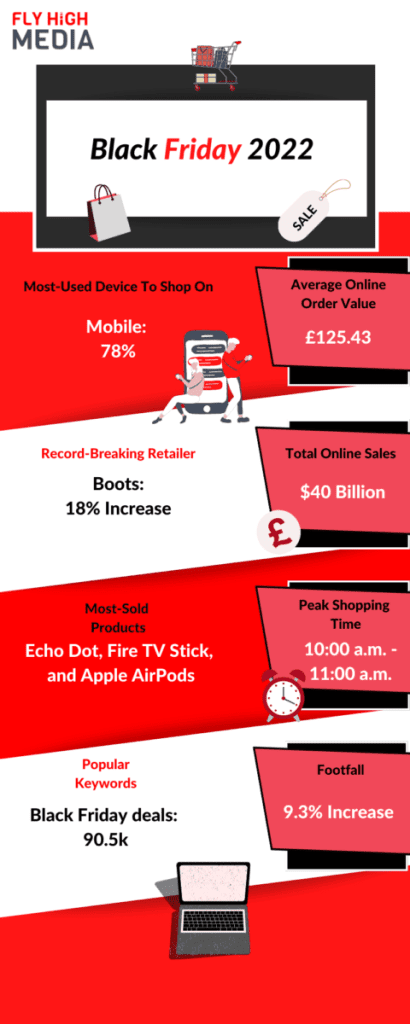 People are continuously changing the way they shop, so businesses need to evolve with their customers to ensure they are consistently delivering as well as keeping up with their competitors. 
A particular area that businesses should focus on in a buyer's shopping journey is how their customers are shopping, such as recognising what devices they are using.
Most-Used Device To Shop On
The number of people who shop online is continuing to grow, which may be why Black Friday remains such a successful event, even since Covid-19.  
In 2020, there were 400 million online sessions of which 74.17% were mobile sessions. The figures were similar in 2021 with mobile sessions being at 73.84%.
This year, although online sessions were lower overall, mobile sessions increased to 78%.
With the above figures in mind, retailers should endeavour to optimise their websites for mobile devices to help improve the user journey and user experience (UX). 
For example, if you own an e-commerce business, you should try to use a responsive design for your website to ensure it is rendered appropriately, according to the various screen resolutions and sizes that your audience may be using. 
A Web Design & Development service offered by a digital marketing agency, such as Fly High Media, can help to optimise your website.
Black Friday Peak Shopping Time
On Black Friday 2022, online sessions in the UK peaked between 10:00 a.m. and 11:00 a.m., which was very much the same as the peak time in 2021. 
This year, the online sessions began to climb from 6:00 a.m. to 11:00 a.m., after which they began to drop, particularly in the afternoon.  
As mentioned, the amount of people who shop on mobile devices is increasing, allowing them to easily make their online purchases during short sessions in the middle of the working day, such as on their lunch breaks. 
With this in mind, businesses need to recognise the peak time they can reach their target audience to help them effectively optimise engagement. 
Footfall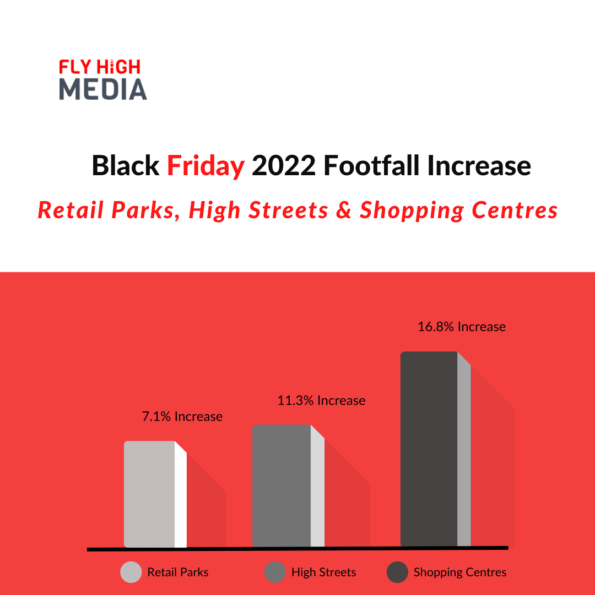 Although e-commerce sales are continuously growing, this has not made much of a negative impact on offline sales. 
On Black Friday 2022, there was still a 9.3% increase in UK shoppers at retail parks, shopping centres, and on the high streets. 
Compared to Black Friday 2021, footfall in retail parks rose by 7.1% and shopping centres rose by 16.8%. The footfall on the high streets rose by 11.3%.
Black Friday Online Spending 2022
In 2016, UK customers spent a total of £7.28 billion over the Black Friday weekend, of which £2.79 billion came from e-commerce sales.
In 2021, online spending was even higher at £5.74 billion, with total spending coming to £9.42 billion.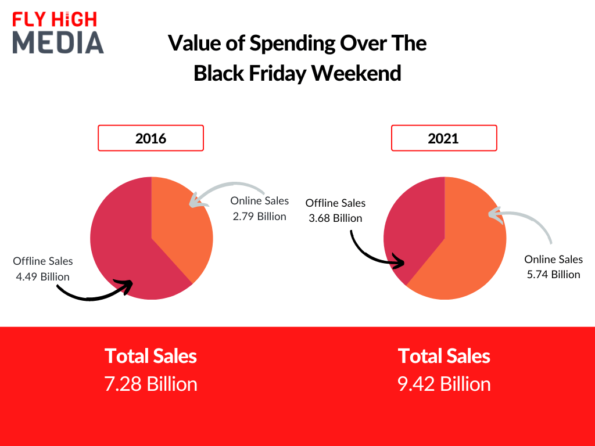 So, with the cost of living rising, we were interested to see the total value of revenue that was generated over Black Friday 2022.
Average Online Order Value
As already mentioned, Black Friday 2022 saw a small dip in online sessions compared to previous years; however, the online sales value did slightly increase.
This year, people who made Black Friday purchases online spent, on average, £125.43, which was a £17.33 increase compared to 2021. The increase is an indication that people are spending more individually per online session.
Total Online Sales
On Black Friday 2022, people from around the world spent over $40 billion online.
This higher-than-predicted figure could be due to items still being costly as a result of inflation, despite them being reduced. 
Alternatively, it could be high because people were bagging many bargains to save money and help them prepare for financially hard times ahead, which we are all likely to face in 2023.
Popular Products and Retailers on Black Friday 2022
Overall, home appliances and apparel were popular items that customers bought during the Black Friday sales. However, depending on the retailer and the location, the most popular Black Friday products did vary.
Record-Breaking Retailer
First of all, Boots had a record-breaking Black Friday. The retailer's online sales had an increase of 18% compared to last year's Black Friday online sales. 
Furthermore, their in-store sales improved over Black Friday 2022, with a 17% increase compared to in-store sales last year.
The health and beauty retailer had over 18,000 products discounted for Black Friday. Some of Boots' best sellers include the Benefit Star Gift set, its No7 Ultimate Beauty Calendar, and the No7 Beauty Collection. 
Most-Sold Black Friday Products
John Lewis had thousands of products discounted for Black Friday, and some of its top sellers included Apple Airpods, iPads, and TVs. 
On Amazon, the best-selling categories were Home, Fashion, Toys, Beauty, and Amazon devices. Amazon's best-selling items in the US were the Echo Dot, Fire TV Stick, and Apple AirPods, which aren't dissimilar to John Lewis's top sellers 
Online Search Trends For Black Friday
Overall, it was a successful Black Friday for many retailers, despite, or maybe due to, the rising cost of living.
However, as the keywords that people type into search engines suggest, the amount of people who actively searched online for Black Friday deals in 2022 has reduced compared to last year.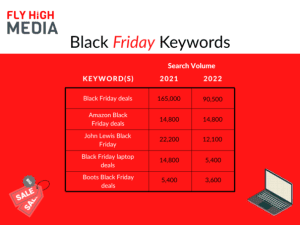 What does this mean for retailers?
Primarily, the drop in online search volume means that retailers who wish to increase their e-commerce sales during Black Friday next year, must identify how their desired customers are shopping, and begin to implement changes to evolve with them and their shopping habits, ready for 2023.
Specifically, retailers should optimise their website to ensure it works effectively across all devices and it includes content that is valuable and relevant to their desired audience. 
SEO (Search Engine Optimisation) is important for any business to develop a good online presence. If you own a business and wish to improve your online revenue, then consider getting in touch with Fly High Media. We can boost your online presence through services, such as SEO and Pay-Per-Click advertising. 
Contact us today to find out more!
Let's find the best solution for your business