The Molly Mae Effect: Understanding Her Social Media Dominance
Molly Mae is one of the most successful influencers in the UK, with 7.8 million followers on Instagram, the platform which started her career.
She rose to fame following her appearance in Love Island 2019, however, she was already making a living as an influencer, working with brands like Rebellious Fashion, Pretty Little Thing and Beauty Works.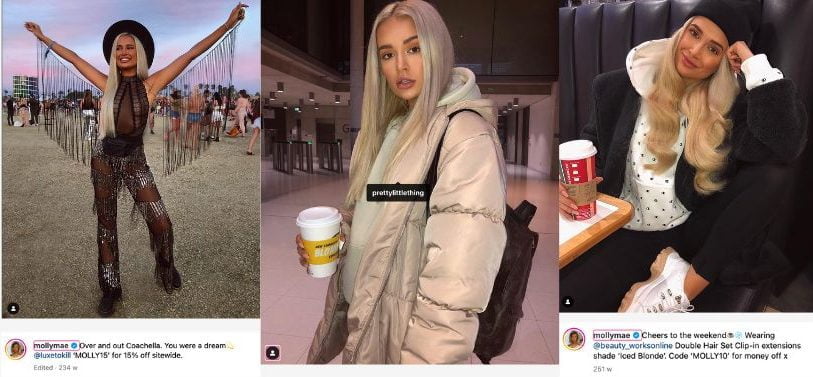 Molly Mae's Instagram posts before Love Island.
She posted her first paid social post on Instagram at age 16 for £25. She now gets paid an average of £10k for a sponsored post. What differentiates Molly Mae from other influencers is that she only works with brands she shops at and wears.
In an interview with her manager, Francesca Britton, in 2021, she revealed that Molly had turned down a £2 million brand deal because she 'didn't buy her clothes from there.' This makes her authentic and trustworthy, compared to the multitude of fake endorsements in the influencer world.
The "Molly-Mae Effect" extends beyond sheer popularity. It revolves around Molly-Mae's distinct talent to influence her followers. Whether she endorses a product, shows her outfit, or offers glimpses into her life, her audience is not just simply observant, they often find themselves adopting her choices as their own.
Her Fashion Influence
Her ability to blend high-end luxury with more accessible and affordable fashion effortlessly enables her to be desirable yet relatable.
She has recently posted a picture of herself wearing a red blazer from Zara. Without it being an ad, she has influenced her audience into wanting and, in turn, buying the jacket ('Must now go get a red jacket').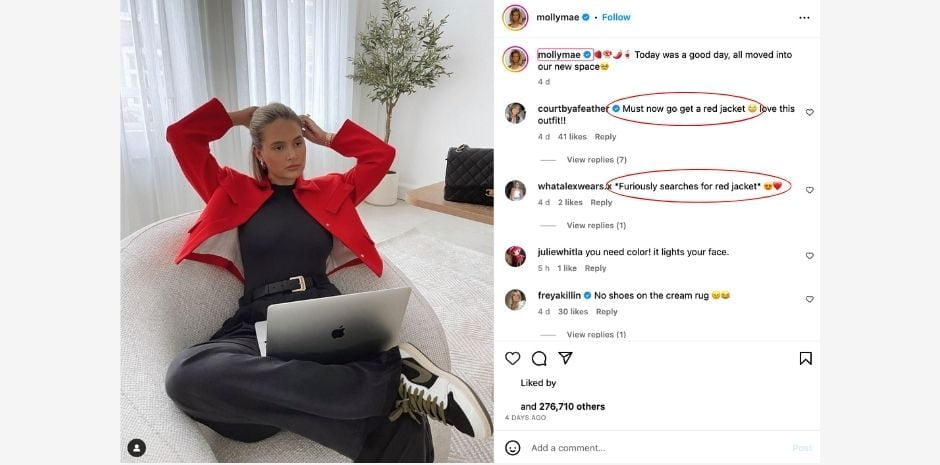 This happens with almost everything she wears. If the product isn't tagged, people will comment asking where the outfit is from or what it's called.
The Leather Zara Jacket
If you've heard of Molly Mae, you've probably heard of the viral "Molly Mae jacket" or even know someone (or many people) who has it. She posted a picture in a khaki leather jacket, tagging Zara:

This created a huge surge in demand and led to it selling out every time it was restocked.
This was, arguably, the start of the common use of the phrase "The Molly Mae Effect." Users were talking about it all over social media, especially on TikTok: the hashtag, #mollymaejacket, has 32.2 million views:

Adanola
Similarly to the Zara jacket, Molly was seen wearing Adanola's 'Ada' hoodie in Grey Marl (not an AD).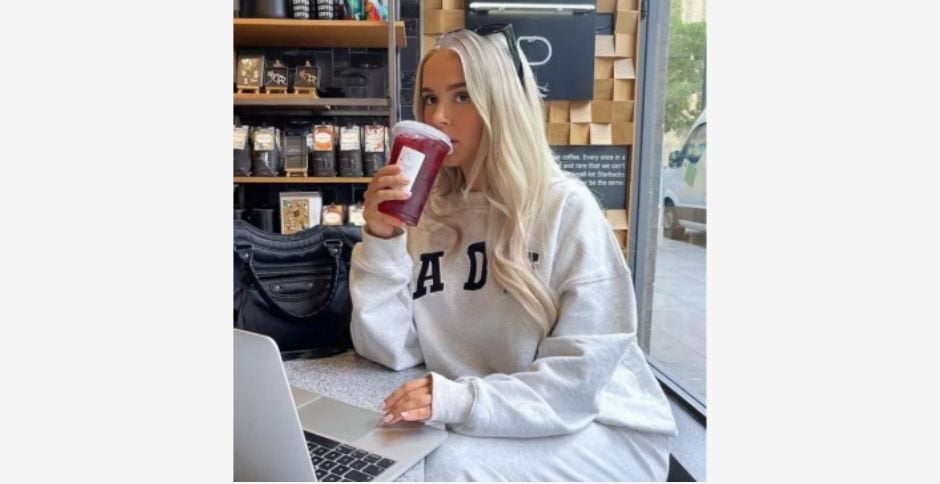 Before I saw Molly Mae post a picture of herself wearing Adanola, I hadn't heard of the brand. In the upcoming weeks, I saw Adanola clothing being worn and posted about constantly on my Instagram and TikTok feed.
I had to sign up for restock notifications to get my hands on one of their hoodies, as they (still) constantly sell out.
Adanola has influencer- marketing to thank for their success, especially Molly Mae, as social media influencers played a huge part in the demand for the brand.
Hollies Farm Shop
There's recently been a surge in popularity for Hollies Farm Shop (Tarporley), after Molly Mae posted that she was there on her YouTube and Instagram.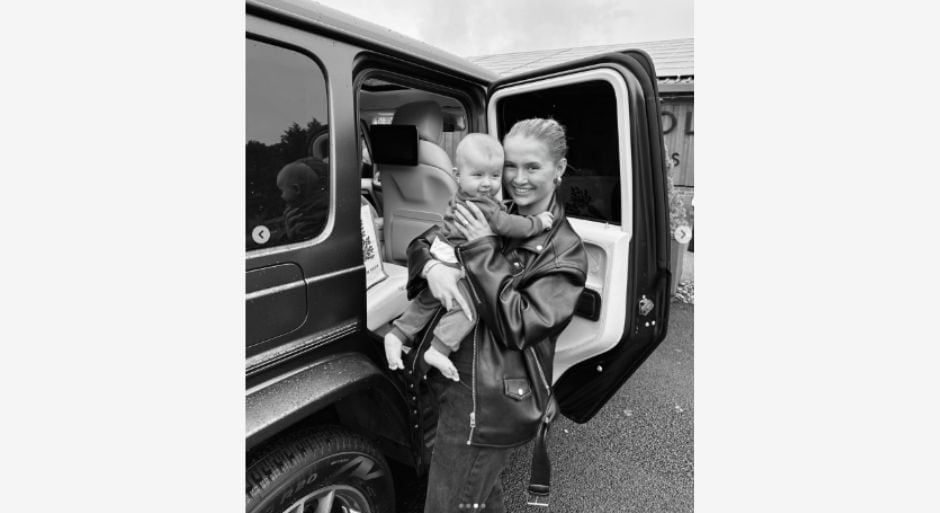 In her YouTube vlog, she said, "Honestly, everything in here is just unreal," influencing her audience to go and try it for themselves.
Zoe Hague, Molly's sister, posted their day out to Hollies Farm Shop on her TikTok on the 12th of September, the same day Molly posted the above picture on Instagram. Google searches increased by 416% in the weeks following their visit:

Once again, this sparked talk about the 'Molly Mae Effect' on social media, with people posting on TikTok, some complaining about the queues at Hollies since Molly posted about it.
Molly Mae fans also post TikTok videos of their visits, some making POV videos ("POV: You were influenced by Molly Mae") saying it's "amazing" but to be "prepared for the queues," which locals aren't too happy about:

Image via 'The Manc'
#holliesfarmshop now has 1.4 million views on TikTok, and it's expected to be as busy throughout autumn and leading up to Christmas, due to its festive food and decor.
The Vow by Ruth Anne
Five years after the release of the song 'The Vow' by Ruth Anne, it hit number 2 in the UK iTunes chart. This surge occurred as a result of Ruth singing her song at Molly and Tommy's engagement in July.
The song was originally played during the Love Island final and their gender reveal, making it a sentimental song for Molly and Tommy. Ruth said she "can't believe this song has become a soundtrack for these special moments."
After hearing the song in Molly Mae's video, her followers wanted to listen to it, making it extremely popular.
This just proves how anything Molly Mae does, including loving this song, has a huge influence on her followers.
In a world where a single post or mention on social media can ignite trends, boost businesses, and influence personal decisions, the "Molly-Mae Effect" is an example of the substantial influence macro-influencers have on this generation.
Molly Mae's popularity and the trust she holds among her followers is down to her style and authenticity; she presents herself genuinely and relatably, allowing her audience to connect with her on a personal level. She almost exceeds the label of 'macro-influencer,' being one of the biggest influences of our generation.
Need help with your Social Media Marketing? Contact Fly High Media today!
Let's find the best solution for your business