Paid Media Executive Vacancy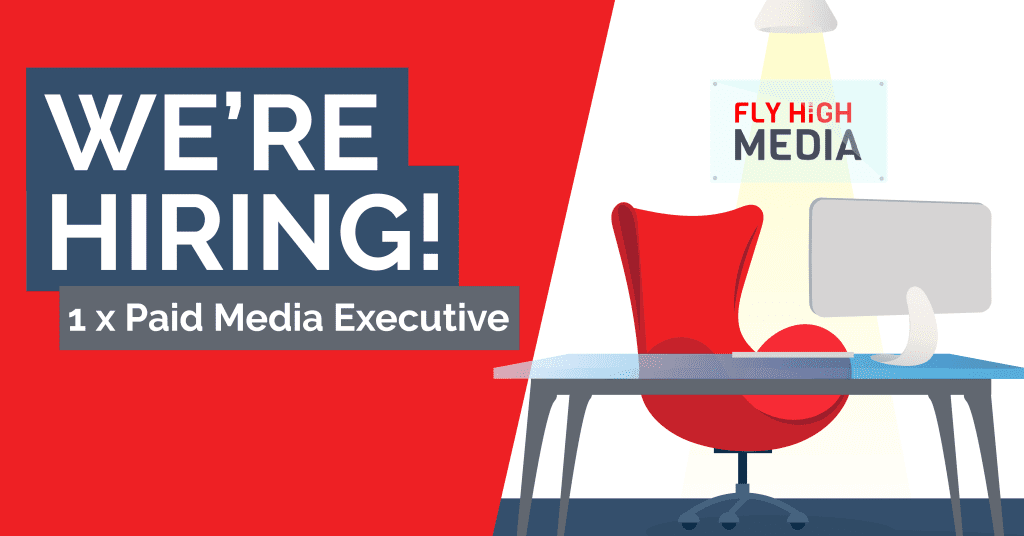 Position: Paid Media Executive
Location: Hooton, Cheshire, CH66 7NZ
Salary: DOE
Contract: Full time, permanent
Hours: Mon – Fri 9am to 5:30 pm (some flexibility)
We are seeking to recruit a self-motivated individual with a positive attitude, looking to progress their career in PPC marketing. The ideal candidate will have at least two year's previous experience in an agency as a PPC executive or similar PPC role.
The successful candidate will be responsible for determining the best strategy for achieving the marketing objectives and reporting to our clients in a timely manner, whilst adhering to our high-quality standards.
– Plan, optimise, implement and manage paid Google and Facebook ad campaigns for a variety of clients.
– Ensure PPC campaigns are optimised according to the client brief and best practice guidelines.
– Develop near and long-term paid search strategies and campaigns for clients.
– Review potential new client proposals.
– Manage small to large-sized PPC budgets.
– Work with colleagues to ensure landing pages are effectively optimised for all PPC campaigns to ensure maximum ROI and conversion.
– Perform keyword research and manage all bid management for your clients.
– Ensure all paid search activity falls in line with the larger search marketing and digital marketing strategy.
– Keep up to date with the latest industry trends.
– Analyse activity and performance of all paid search campaigns and report as appropriate.
– Help to define PPCs strategies for a host of clients.
– Assist with Fly High Media's own marketing as required.
Relevant skills and experience:
– Minimum of 2 years of experience in a similar role (agency side).
– Proven track record in driving successful Google and Facebook ad campaigns.
– Strong working knowledge of Facebook Ads and all paid search platforms.
– Google Ad certification essential.
– Facebook Blueprint qualification desirable.
– Strong attention to detail.
– Passion for PPC and digital marketing.
– Effective communication and reporting skills.
– Strong track record in managing small to medium-sized budgets.
– Strong numerical and analytical skills.
– Good working knowledge of Google Analytics. 
– Experience in other Paid Ad Platforms desirable (eg Bing, TikTok, Snapchat).
– Effective account management skills.
– 28 days leave (including statutory bank holidays)
– An extra days' leave for every year at FHM. (max 5 extra days)
– An extra day off on your birthday
– MacBook Pro
– Monthly personal development opportunities
– Free onsite car parking
– Train station within walking distance
– A casual dress code
– Free tea, coffee and cold drinks
– Social events
Why work for Fly High Media
We are a small, friendly, digital marketing agency with a huge ambition to grow over the next five years. We specialise in SEO, PPC, Facebook Ads and Social Media Management. We also provide client training on marketing techniques as well regularly publishing blogs and podcasts.
Our business philosophy is focussed around six key pillars:
Client focus – We are proud of our client focused approach and we always strive to do our best. We value the client relationship more than the deal.
Excellent service – We are committed to delivering an excellent service for our clients and building strong long-term relationships. We immerse ourselves in our client's business so that we understand their marketing objectives and strategies.
Results driven – We are a results-driven digital marketing agency. We only put time, effort and resources into strategies that get the best results for our clients. We aim to deliver impressive returns for our clients.
Bespoke solutions – We work closely with our clients, analyse relevant data and then create original, bespoke and ethical solutions that are designed to increase visibility and generate revenue.
Trust and integrity – We build trust with clients by always being open, honest and transparent, and clearly explain what's achievable.
Passionate – We are passionate about what we do and our client's success.
If you feel you have what it takes to make the most of this opportunity and become our Paid Media Executive, we want to hear from you. Please fill in the form below.
Let's find the best solution for your business