Online Pharmacy SEO: Marketplace Analysis
With the increasing reliance on the Internet for various needs, online pharmacies have gained significant popularity among consumers seeking a more convenient and discreet way to purchase medications. As the competition intensifies within this rapidly evolving industry, it becomes crucial for online pharmacies to adopt effective SEO strategies to stand out and attract a larger audience.
This analysis explores the online pharmacy industry, examining its current landscape, key players, and challenges. We will explore the importance of SEO in the online pharmacy sector and highlight the strategies and best practices to help online pharmacies optimise their websites for search engines. Additionally, we will address the regulatory aspects that online pharmacies must navigate carefully to ensure compliance while implementing SEO strategies.
By leveraging SEO, online pharmacies can establish themselves as trusted and reliable sources of medications, catering to consumers seeking convenience, affordability, and quality healthcare products in the digital realm.
In this report, we will be taking a closer look at iPharm, Express Chemist, Chemist4U, SimplyMeds, Pharmacy2U. 
Analysis of Site Traffic 
It is interesting to see the amount of branded traffic for each site. Express Chemist has 93% branded traffic, and SimplyMeds has only 13%. This represents a significant advantage, as it will attract more new customers instead of relying solely on returning visitors.
Outside of branded traffic, here are how the sites stack up against each other in terms of total number of keywords. Chemist4U appear to be leading the way significantly with over 65,000 total keywords!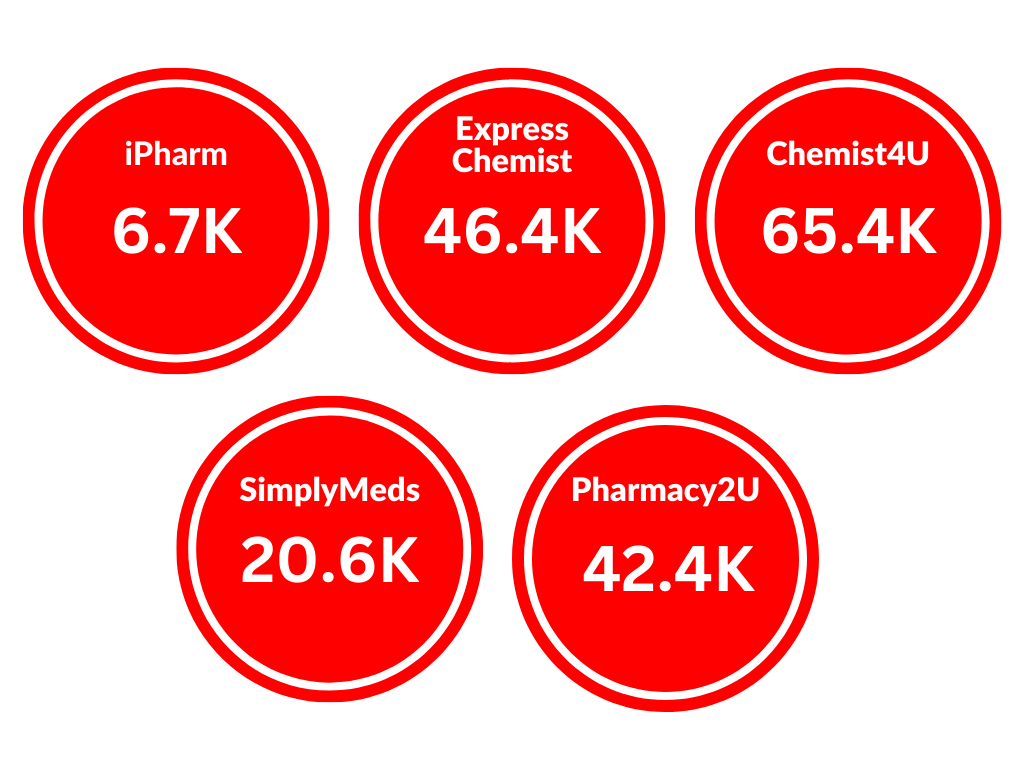 Visibility
To understand the visibility of each website and how they got there, there is a bar chart below showing where the pharmacy sites appear in search results:
 But how does this translate to traffic share and monthly organic traffic?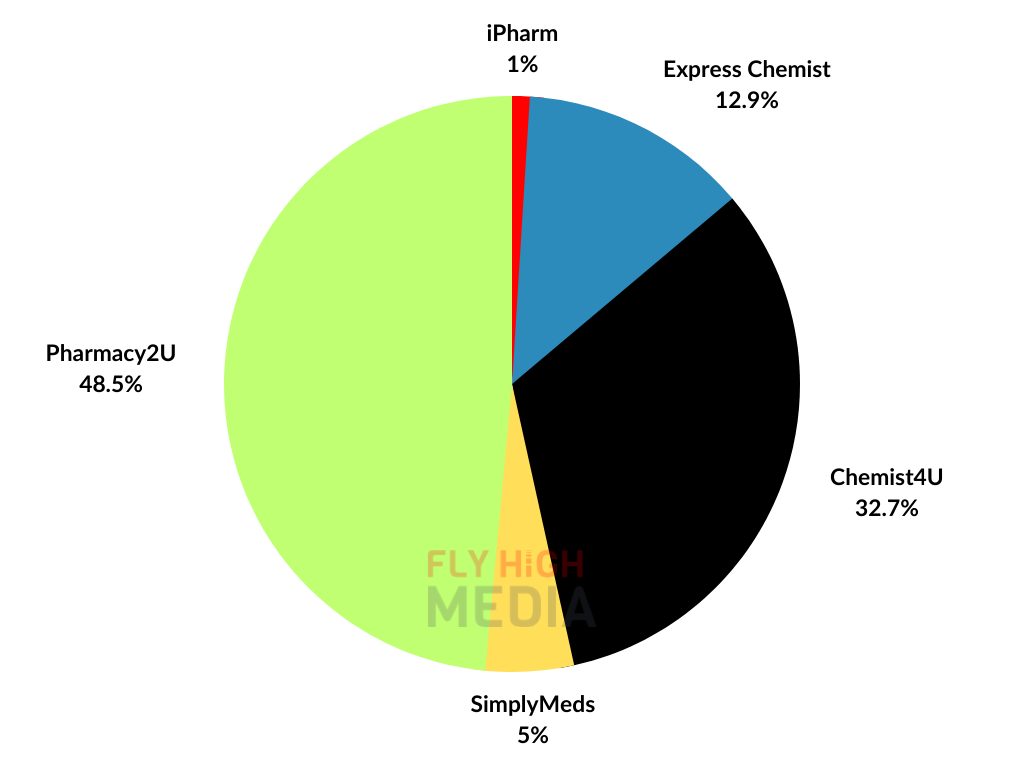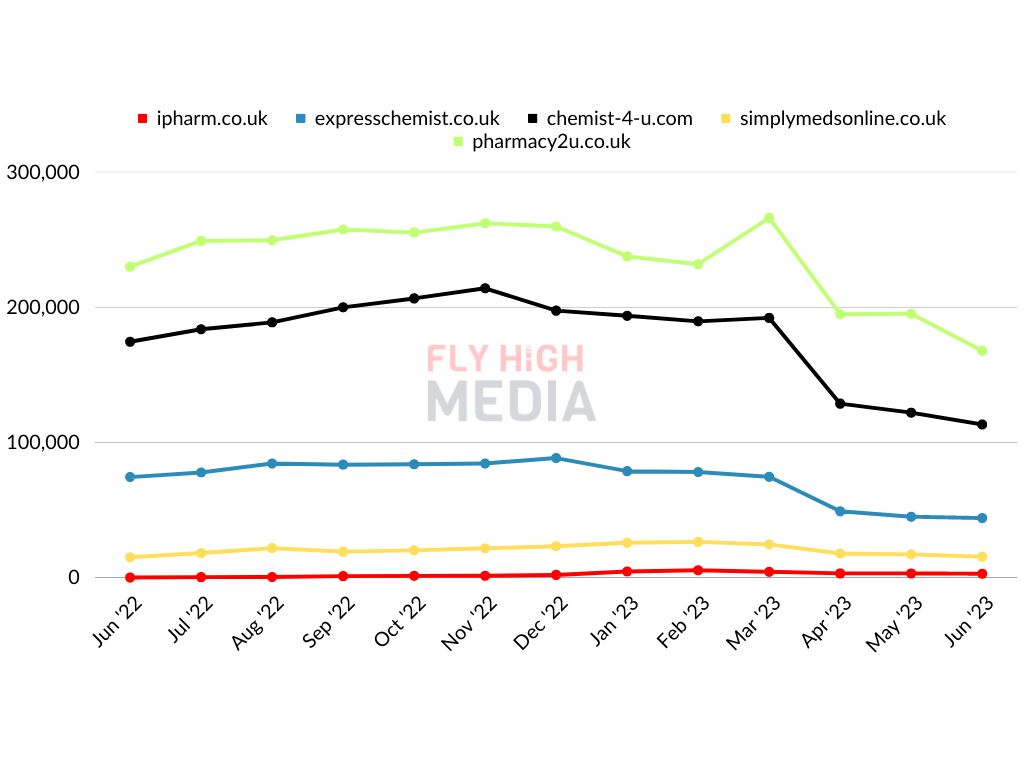 Backlinks
One of the highest weighted factors in organic search traffic is still down to backlinks. However, they must be from quality sources that provide valuable trust signals pointing towards your website.  With the sensitive medical content on pharmacy websites, it is important to consider E-E-A-T guidelines when writing content and building links from relevant authoritative websites.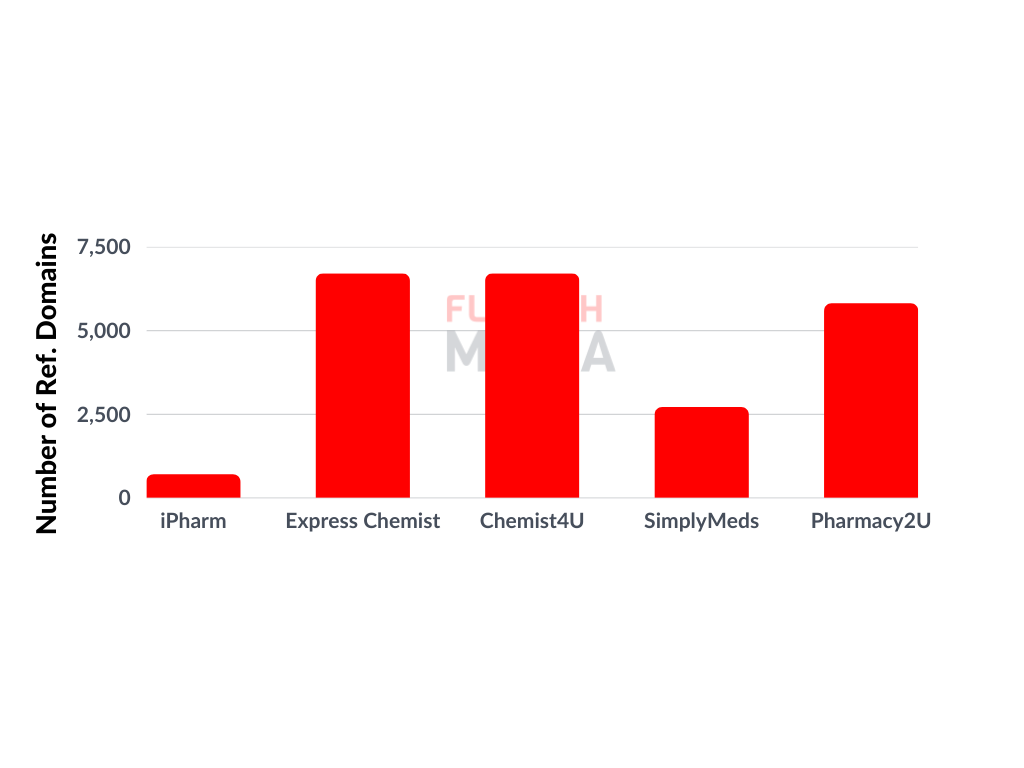 For Express Chemist, Chemist4U and Pharmacy2U there is a healthy level of competition in the volume of links, and there is an aggressive acquisition of links between the other three sites, as shown below: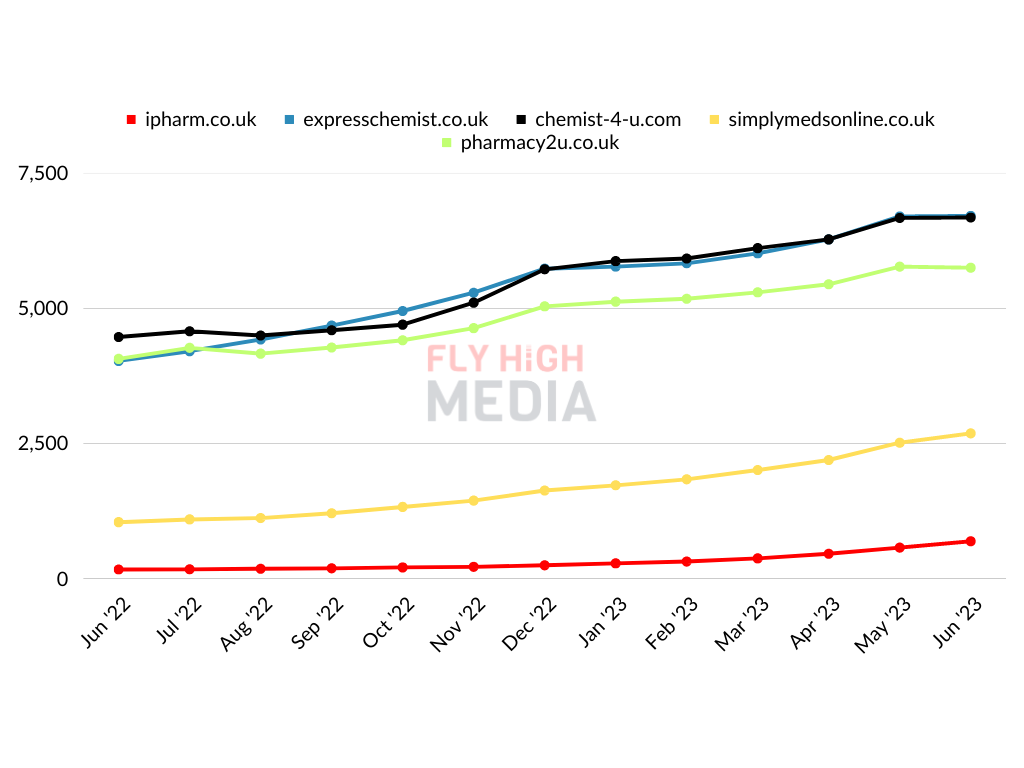 However, looking at the Domain Authority of the links, there appear to be many low-quality links across the board.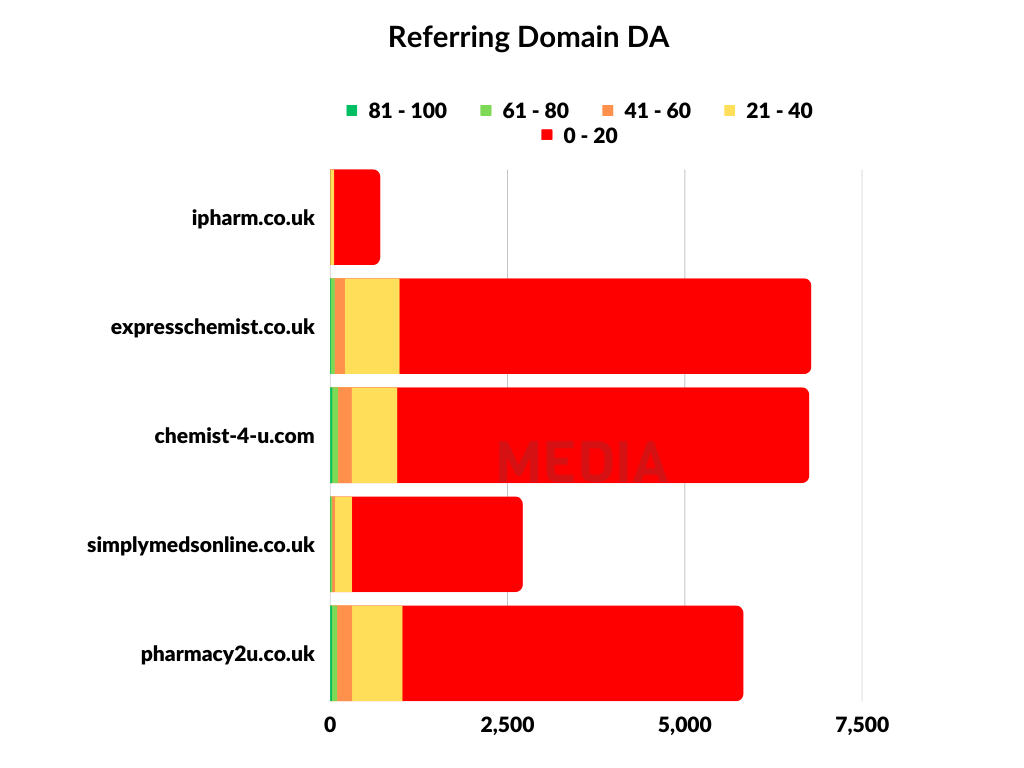 Summary
In conclusion, this SEO analysis of the online pharmacy industry reveals critical insights into the strategies and challenges prominent players face in this digital space. The growing popularity of online pharmacies has led to fierce competition, making effective SEO practices vital for success.
The report highlighted the significance of branded traffic, where Express Chemist stood out with 93% branded traffic, signalling a strong base of loyal customers. Conversely, SimplyMeds, with only 13% branded traffic, faces the opportunity to attract new customers and expand its user base.
Chemist4U emerged as a clear keyword leader, boasting over 65,000 and demonstrating a strong online presence. 
A crucial factor for organic search traffic remains backlinks, which are pivotal in determining a website's ranking and visibility. While Express Chemist, Chemist4U, and Pharmacy2U exhibit healthy competition in link acquisition, the presence of low-quality links across the board highlights the need for quality sources and adherence to E-A-T (Expertise, Authoritativeness, Trustworthiness) guidelines, especially in the sensitive medical content domain.
For online pharmacies to continue thriving, they must focus on building strong and reputable backlinks from relevant authoritative websites in alignment with E-A-T principles. Additionally, adhering to regulatory guidelines ensures compliance while implementing SEO strategies.
By leveraging SEO effectively, online pharmacies can solidify their positions as trustworthy and reliable sources of medications, catering to consumers seeking convenience, affordability, and quality healthcare products online. In this dynamic and evolving industry, staying ahead with well-executed SEO tactics will be the key to sustained growth and success for online pharmacies.
At Fly High Media, we have extensive experience working with online pharmacies. Get in touch today to see how we can help you.
Let's find the best solution for your business