Marketing in Luxury Fashion: The Jacquemus Way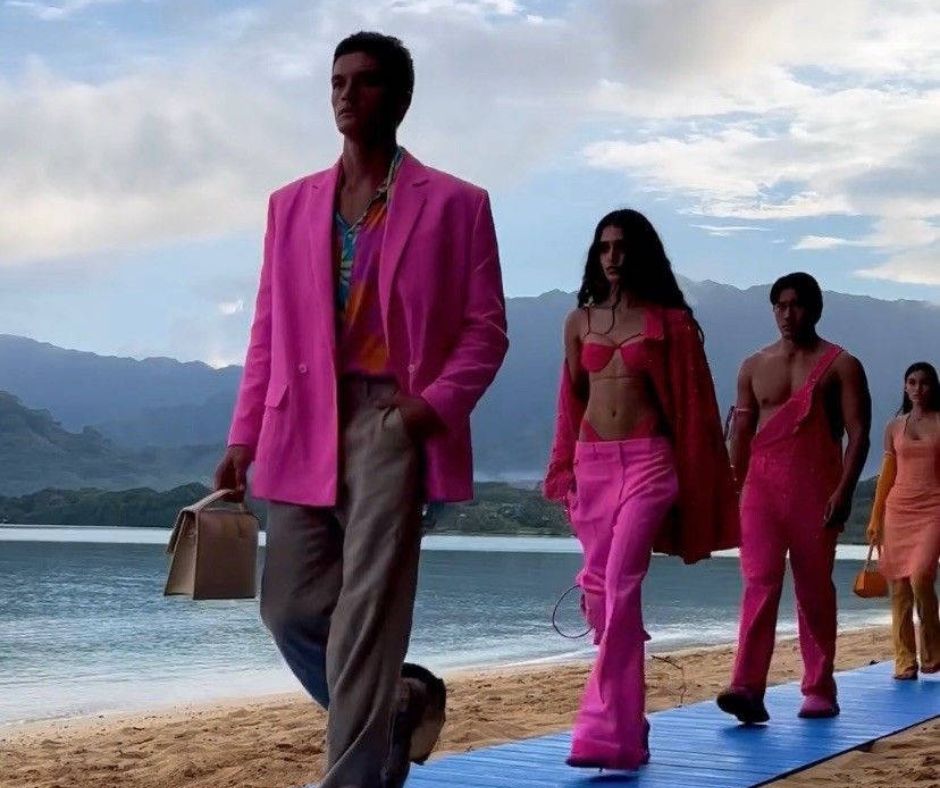 The fashion brand, Jacquemus, is known for its creative, minimalistic designs, and innovative marketing. Unlike traditional Parisian design, Jacqeumus combines simple, minimal class with childish playfulness, often using bold patterns and colours in a tasteful and fresh way.
Jacquemus was launched in 2009 by French designer Simon Porte Jacquemus. He wanted to create something more than clothes; an ode to his late mother.
He had a vision and he made it come to life.
As his designs began to be noticed in the Parisian fashion world, in 2012 he was offered a small slot in Paris Fashion Week. Whilst designing for his runway show, he worked as a sales assistant for Comme Des Garcons, whose influence you can see in some of his later designs.
Years after his Paris Fashion Week debut, he released 'La Bamba,' a playful yet sophisticated collection that featured in vogue and picked up by Selfridges. This collection caught the eye of various influential celebrities, such as Kim Kardashian and Rihanna. This sparked the turning point in the success of the fashion brand. By 2018, everyone in fashion knew his name.
The fashion brand is now worth over €200 million and is on track to double this by 2025. Wondering how he did it?
The Jacqeumus Marketing Strategy
Brand Identity and Storytelling
A brand identity is the unique personality and visual representation that sets a brand apart. It encompasses its values, messaging, aesthetics, and core, serving as a way for the brand to communicate its distinctive qualities and make them recognisable to the world.
Jacqeumus' brand extends far beyond just fashion. A huge part of Jacqeumus' success is down to their ability to evoke emotion. Jacquemus "wanted to create something: To tell a story."
Each collection has a story and takes influence from Simon's life and rural upbringing. His past can sometimes be seen in his designs; some early works have a modern spin on romantic French folklore.
Telling a story through fashion makes the brand more authentic. Blending artistry with storytelling creates an identity beyond bags and clothes, making each piece a container for emotions, experiences, and memories.
He treats each collection as a canvas for feelings, transitioning from neutral, elegant designs to bold abstract brights whilst never losing brand identity.
Experiential and Immersive Campaigns
Jacquemus are known for their immersive and creative marketing campaigns. They are the talk of the marketing world at the minute, sparking various conversations on LinkedIn, with each campaign even more creative and eccentric than the last.
They have released a branded ice cream truck in Nice, France, in the shape of a bag from their latest collection, Le Chouchou: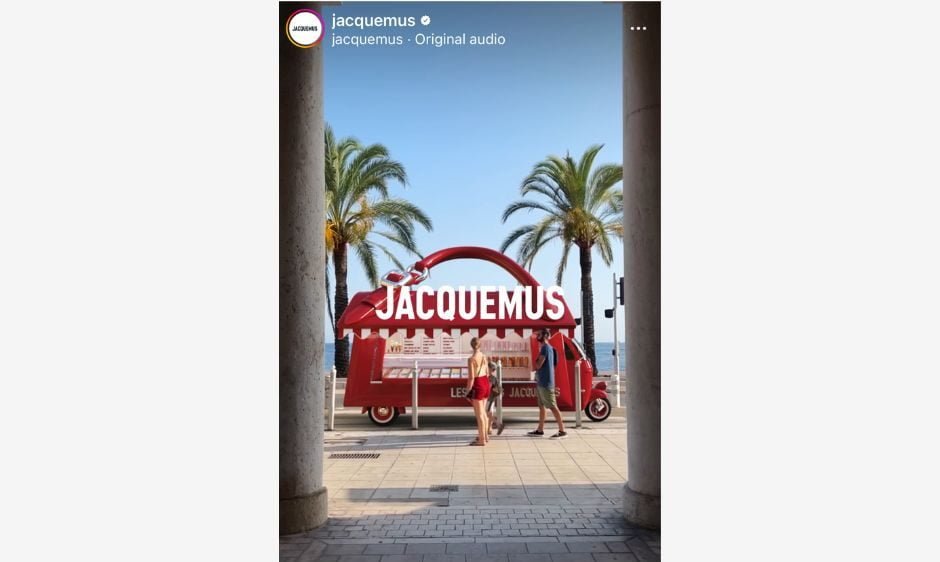 A branded ice cream truck not only attracts attention and foot traffic but also creates a memorable and positive association with the brand, enhancing its visibility and drawing potential customers to engage with the brand. It also creates a fun photo opportunity, potentially expanding reach on social media.
CGI
With the rise of AI, brands have been using CGI to create 3D, real-life-looking campaigns. Their CGI campaigns have excited conversations on social media, with people questioning if it's real. This leads to interaction, shares and, as a result, expanded reach.
"Bags on Wheels" went viral in April this year, and their inflatable bag most recently.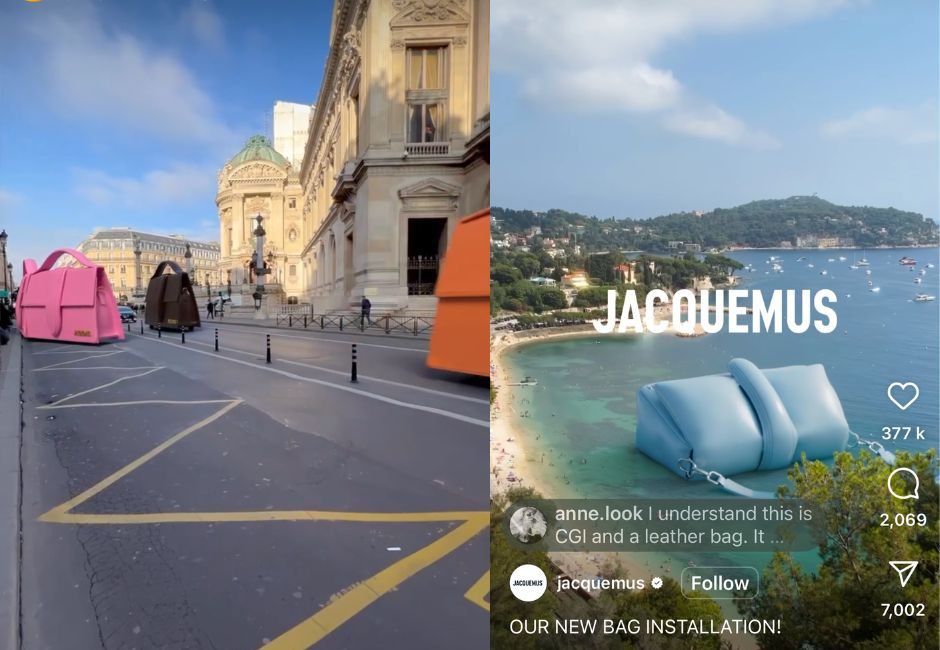 Car bags in Paris: https://www.instagram.com/p/CqqCfr-uovy/
Inflatable bag in the sea: https://www.instagram.com/p/CwLJBhCMxeB/
Falling Lemons teased a later confirmed beach club collab with Indie Beach Pampelonne, "When life gives you lemon…" The creativity of this post left nearly 1000 comments on the post, again creating a conversation and promoting the brand without actually showing any of their products.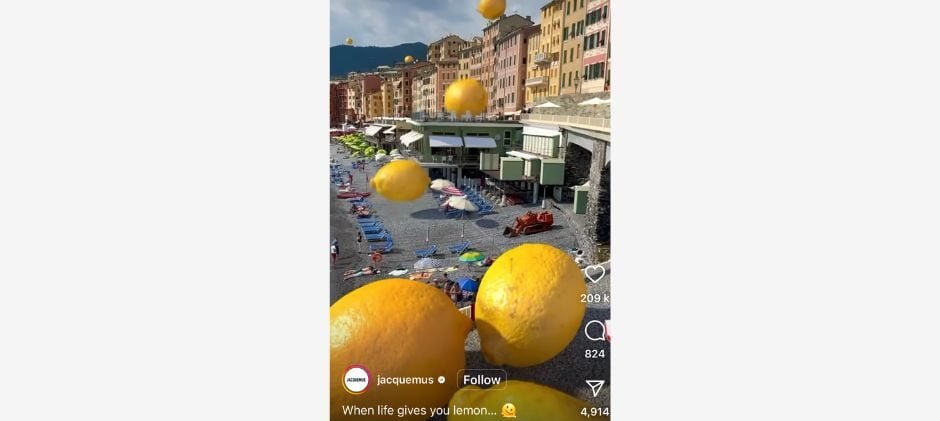 https://www.instagram.com/p/Cu4kQEgLU0w/
To promote their newly opened store in Lake Como in May, they showed a huge, boat sized bag in the ocean: 'We just arrived in Como'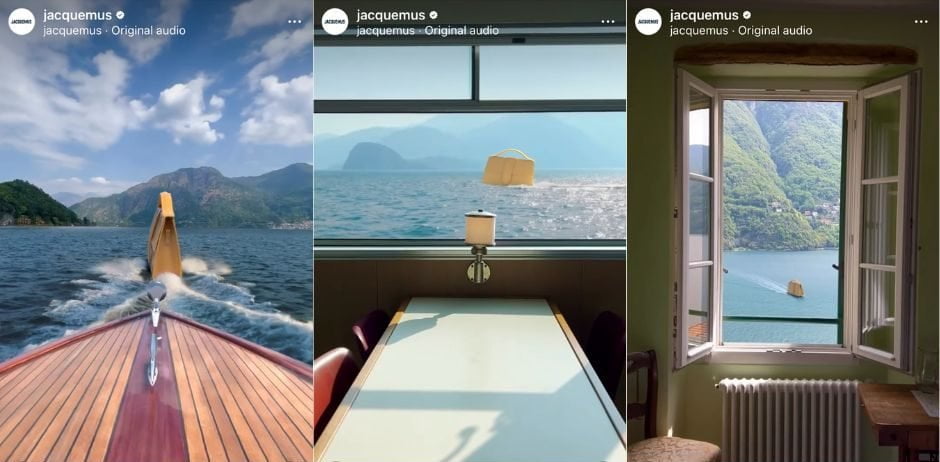 https://www.instagram.com/p/CsEZC70O8y_/
Pop-ups
Jacquemus' pop-up stores offer users a unique experience that is more fun than a usual store or online purchase. This once again adds to the playfulness and creativity of the brand's identity.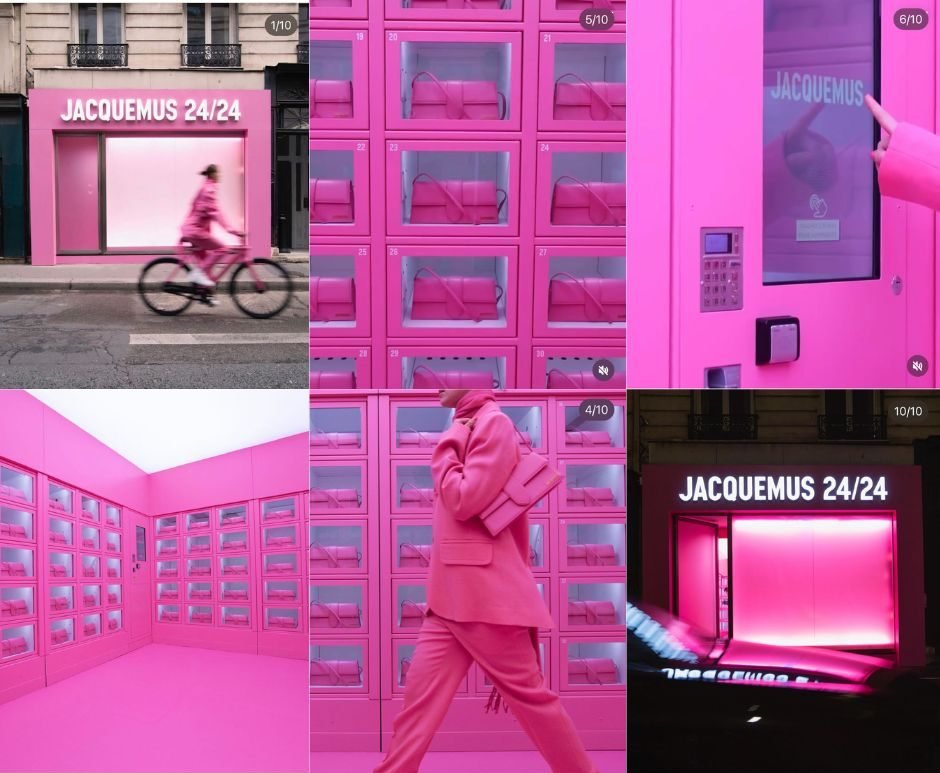 Images via Instagram
In December 2021, 24/7 pink vending machines were introduced to the streets of Paris. These vending machines were targeted at Millennials and Gen Zs, known for their love of Instagrammable photo opportunities. This interactive platform showcased the new Le Bambino Long bag colour while also creating a surge of social media interaction.
Opposing Stereotypes
Jacquemus often have a fresh and urban approach to marketing their collections.
To campaign their Spring 2022 collection, Le Splash, Jacquemus collaborated with Puerto Rican rapper, Bad Bunny. His bold character aligns with the collection and the brand.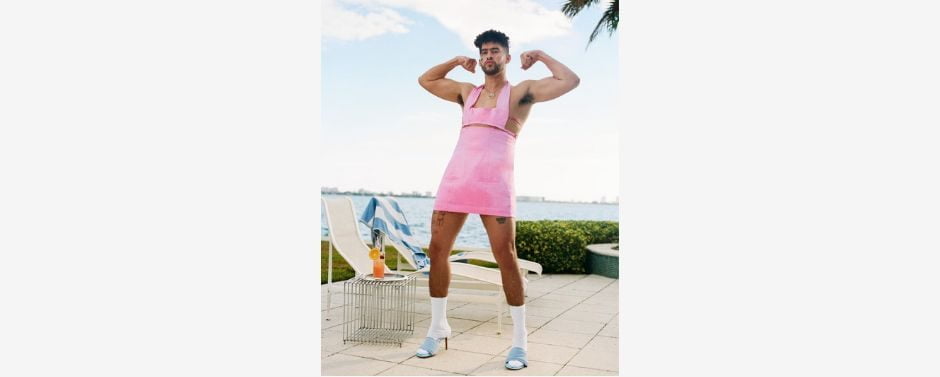 Image via Instagram
This campaign goes against the norms of fashion, promoting modern masculinity in the media.
Within fashion, modern masculinity is an evolving concept that embraces a diverse range of styles that defy traditional gender norms.
It encourages self-expression and creativity, and rejects rigid stereotypes. It allows men to confidently explore clothing that may not be seen as "men's" fashion. It has become more popular in recent years among celebrities such as Harry Styles.
Simon Jaquemus has never conformed to the norms of society, having dropped out of Paris fashion school within months due to there being too many rules. With no formal fashion education or experience in design, he created an influential multi-million-euro brand in less than a decade.
Social Media Presence
Their social media platforms reflect the brand's creative and minimalistic aesthetic. Their Instagram acts as a gallery of art, fashion, emotion and life. Each post is more than just an image.
They showcase their minimalist yet emotionally resonant designs through captivating posts, ensuring a consistent and distinctive brand identity across platforms.
Jacquemus doesn't just promote products; they share narratives, providing glimpses into the founder's personal journey and inspirations.
Simon has created a personal brand that aligns with Jacquemus. For example, the brand's Instagram page has photos of Simon, suggesting that he runs the page. This adds, as previously mentioned, to the brand's authenticity.
Photo dumps of Simon and friends are posted titled as a location, for example, "Ibiza
" where they show random pictures, including some items from their new collection.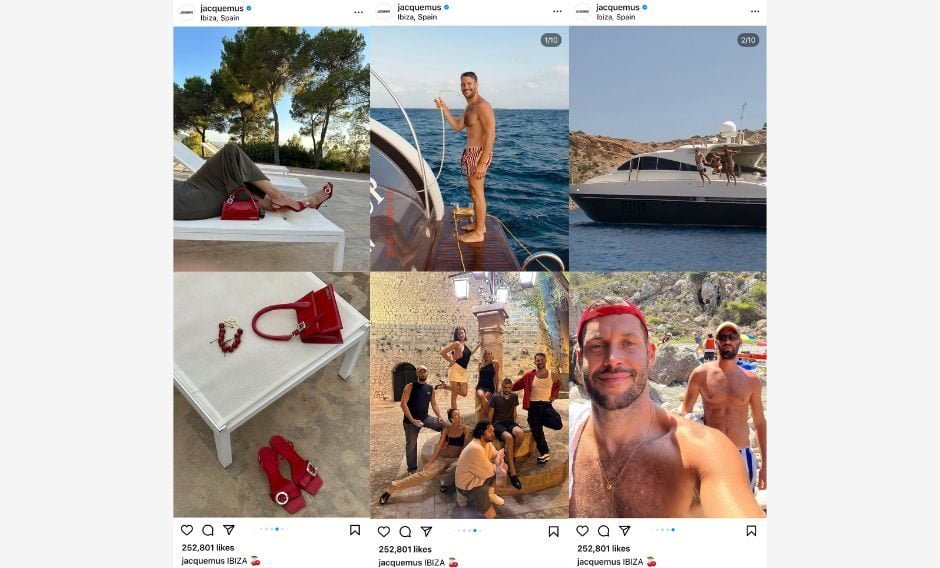 Posting pictures from different places, such as Nice, Marseille, and Capri, shows off the brand in a more natural and usable way, whilst also adding a personal aspect.
They get creative with their social posts, just as they do their marketing campaigns. Le Chouchou, Jacquemus' most recent collection, is subtly promoted on Instagram: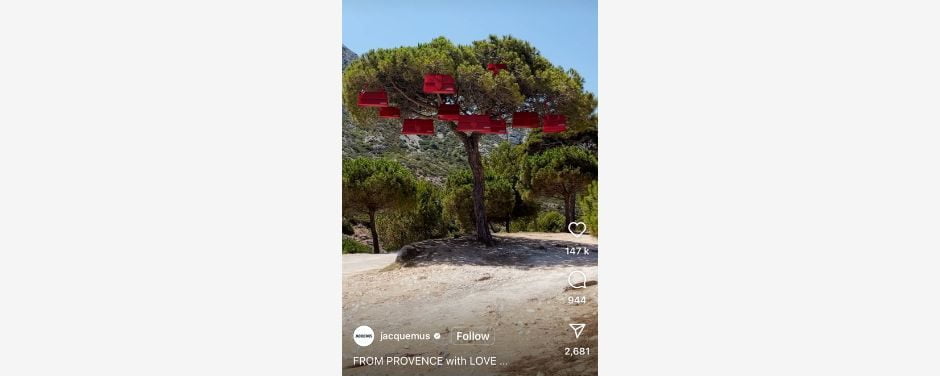 https://www.instagram.com/p/CvsHI_ouA4p/
The audience is being addressed ('Someone know the name of this tree?') and there's no mention of their products. However, you can't miss the red bags hanging on the tree. The location, Provence, also reflects the brand identity and its story.
They also share all of their campaigns and insights into the brand, such as pictures and videos from their runway shows.
Beyond aesthetics, Jacquemus actively engages its audience through interactive features. From captivating stories that provide behind-the-scenes insights, to direct address that involves followers in decision-making, the brand promotes an inclusive and participatory community.
Influencer Collaborations and User-Generated Content
They've also embraced influencer marketing, strategically partnering with individuals whose style aligns with the brand's ethos, effectively expanding their reach.
These influencers, through their curated content, embody the identity of the brand, showcasing how Jacquemus integrates into their lives and personal styles. Influencers are a great marketing tool to make your brand more desirable. For example, if a Rihanna fan sees Rihanna wearing a Jacquemus bag, they want a Jacquemus bag.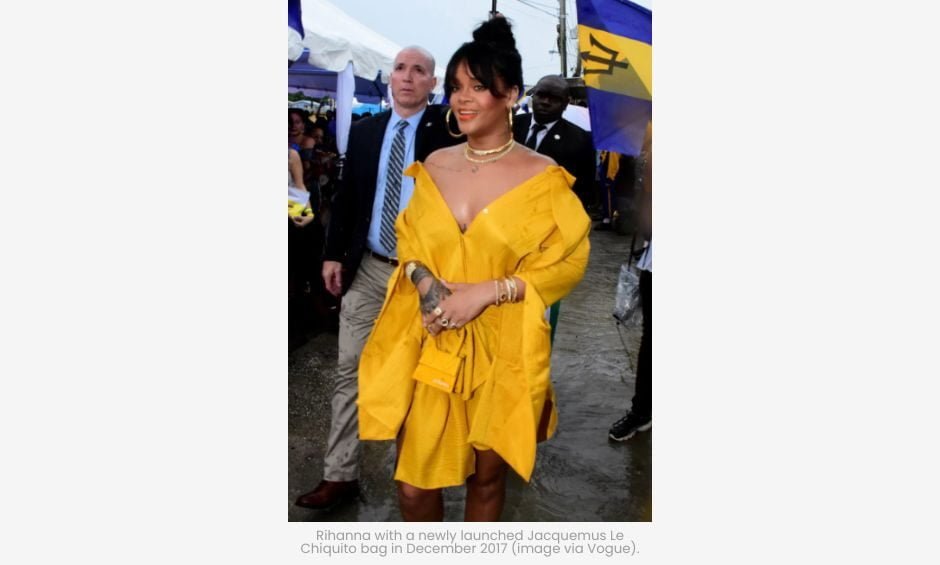 Paying influencers to wear and promote your products has the same effect: Their followers look up to them and trust their style, which, depending on their follower count, results in greater reach, demand and sales.
They encourage their audience to engage with their content, by asking rhetorical questions and making their content sharable. This portrays a friendly and transparent brand, mirroring their values.
Their social media presence makes the brand seem more approachable, unlike other high-end fashion brands, such as Chanel, who continue to present themselves as unreachable.
Sustainability
When it comes to sustainability, the brand centres around transparency, mindful practices, and communication. The brand emphasises its commitment to responsible sourcing, ethical production, and reduced environmental impact.
Their leather goods make up almost 20% of their products, which aren't sustainable. However, in 2019, Jacquemus vowed to do what he can for a more sustainable brand. He announced that he'd revert to a co-ed fashion year, meaning he'd only have two collections a year (the usual is four).
In his F/W 2020-21 collection he used sustainable fabric, launching the collection with only 10 fabrics rather than his usual 100.
By highlighting materials' origins and showcasing his eco-friendly choices, Jacquemus aims to resonate with environmentally conscious consumers.
This not only appeals to a growing eco-aware audience but also aligns the brand with ethical values, creating a deeper and more meaningful connection with consumers who value both style and sustainability.
Emotional Connection
Simon's designs are often seen as a modern spin on traditional French style. Old and new blend recognisable design elements and evoke a sense of comfort and freshness, connecting with people who may remember and recognise the elements of classic style.
As Simon said himself, he doesn't want to just sell clothes, he wants to tell a story. The stories behind his designs allow people to see into his life. This, alongside his personalisation of the brand's Instagram, shows that he wants to create that important emotional connection with his audience. It's the brand that sells.
The new Jacquemus collection draws profound inspiration from Princess Diana. This could evoke a sense of nostalgia and admiration, with the shared appreciation for Diana's iconic style and personal stories.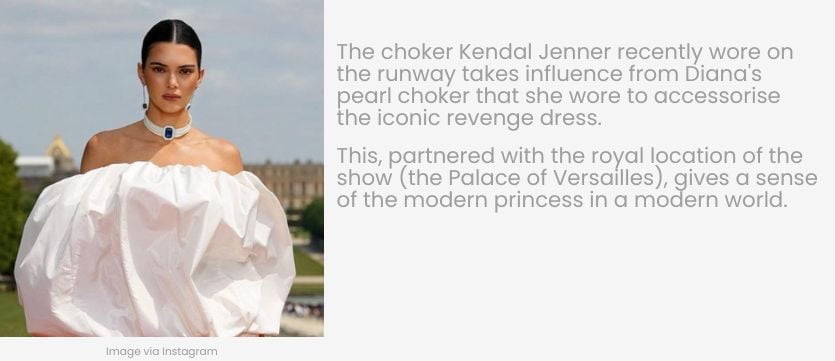 Through familiar design elements from Diana's wardrobe, like polka dots, voluminous designs, lace, and balloon sleeves, the collection could elicit sentimentality, creating an emotional link for those who cherish her lasting influence.
Runway Shows and Media Relations
Simon Jacquemus has made his brand famous for its stunning and widely talked-about runway shows, as unique and creative as their marketing campaigns.
The shows align with Jacquemus's image of modernity and creativity, reinforcing its identity and attracting a younger, trend-conscious audience.
After previous shows in places like Rio de Janeiro on unique landscapes like salt marshes and lavender fields, the latest show was at the Palace of Versailles near Paris for the Fall 2023 "LE CHOUCHOU" collection.
"I was so inspired by this historical place during the design process that it led me to explore many new creative possibilities, different from my past shows, but still very Jacquemus."- Simon Porte
This distinctive approach generates media coverage, social media shares, and conversations, expanding the brand's reach.
High-end supermodels such as Gigi Hadid and Kendall Jenner walked the show. Guests included influential celebrities such as The Beckhams and EmRata. These personalities help with media coverage.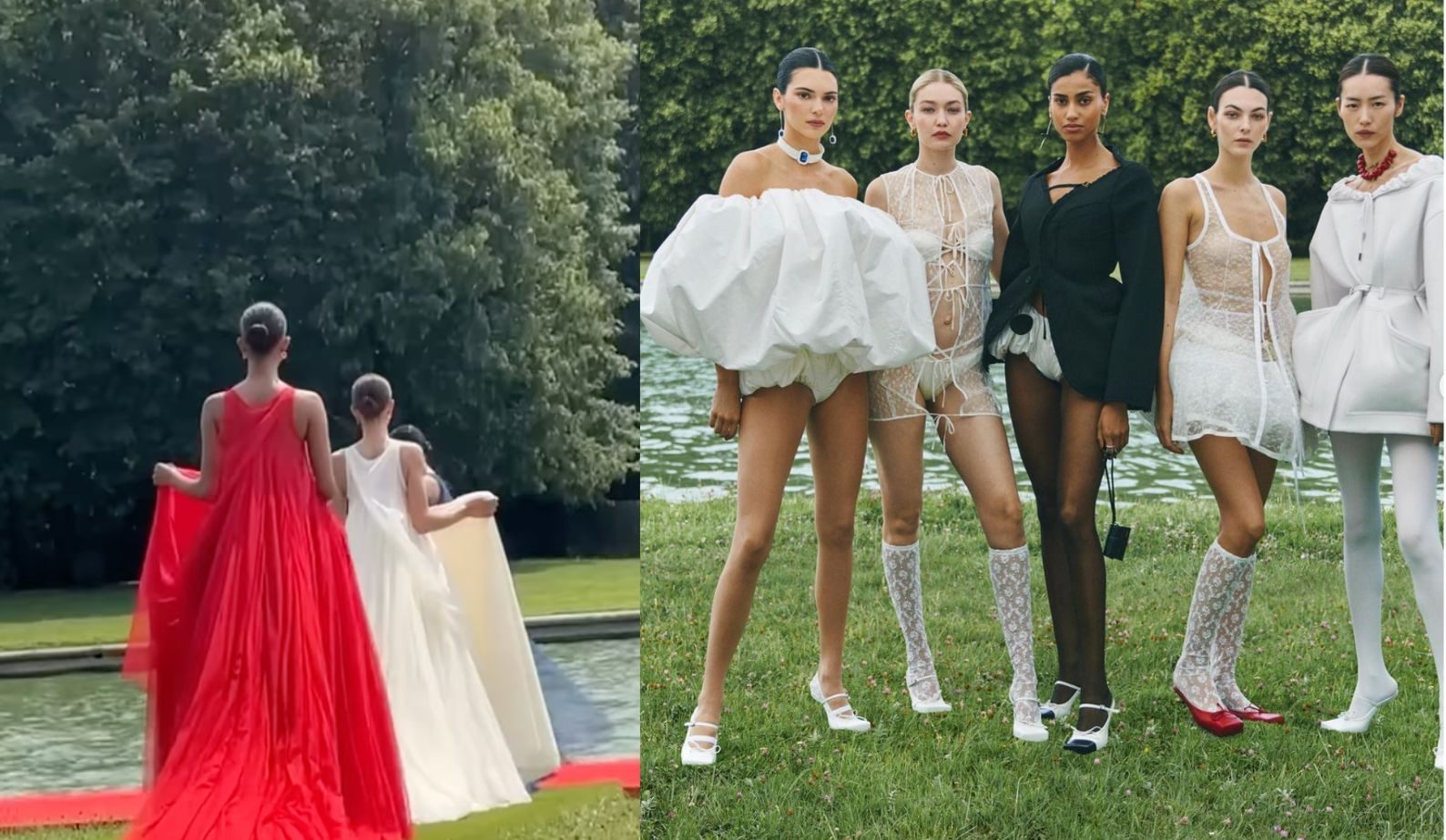 https://www.instagram.com/p/CuB8j9brwvE/
The brand's ability to consistently surprise and innovate in its runway presentations keeps the audience engaged and eager to see what's next. This anticipation leads to sustained interest and excitement around their collections, supporting brand loyalty and driving sales.
The Jacquemus way illustrates that effective marketing extends beyond product displays; it involves compelling stories that establish emotional bonds with the audience. By giving life to narratives through creative collections and campaigns, storytelling has the potential to transform a brand from mere transactions. A story gives your customers the chance to feel like they are a part of something.
In the ever-evolving landscape of luxury fashion, Jacquemus emerges as an example of innovation and creativity in its marketing approach. They offer a fresh stance on Parisian fashion, making them stand out.
It's been 13 years since Jacquemus launched, a small one-man brand, unknowing of its success today. Its popularity and creativity continue to grow worldwide.
Simon has made it clear that Jacquemus is here to stay.
Whatever your digital marketing needs, we at Fly High Media are ready to help your business grow! Get in touch for a free consultation. 
Let's find the best solution for your business