How To Get Your Ecommerce Store Out of a Slump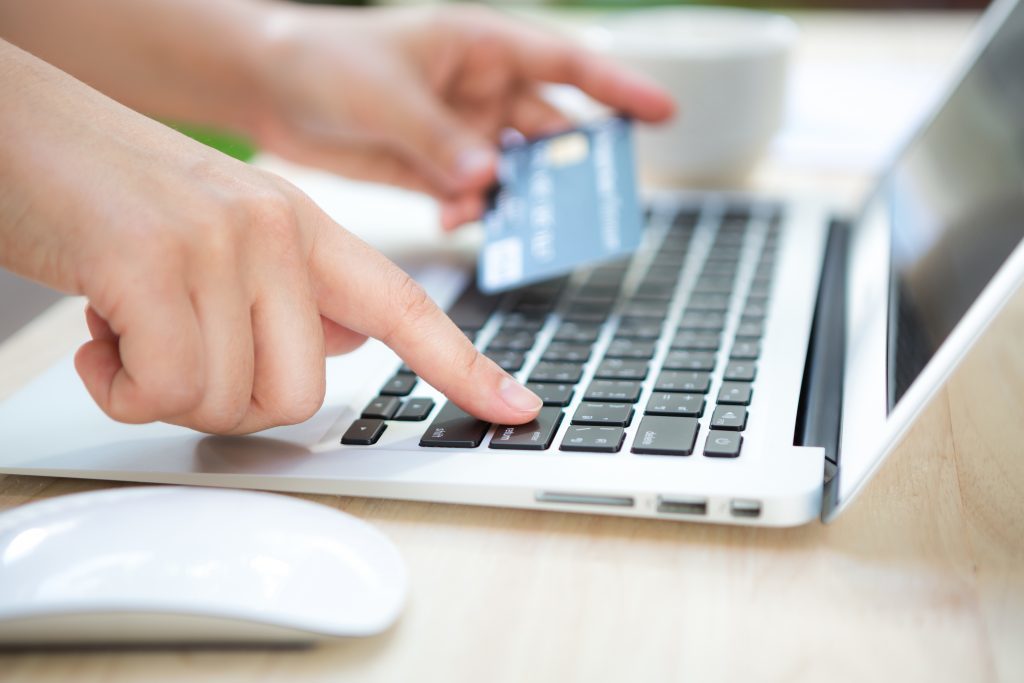 Coronavirus (COVID 19) is having a severe and adverse impact all over the world on the lives of millions of people.  Many countries are now in lockdown with people restricted to staying in their homes and high street shops forced to close.  Consequently, there is a real opportunity for businesses to grow their online business to a new and captive audience.
As many online stores cut back on their marketing budgets, now is a good time to go back to basics and grab some "quick SEO wins" for your website. It really will pay dividends to go through your website with a fine-tooth comb and fix both the on-page and technical aspects, so you can make the most of existing traffic and have the foundations laid to increase search engine rankings in the coming months. 
Here's what you can do to get ahead of the curve.
1. Optimise ALT tags
This is often an overlooked tactic when looking to optimise and fine-tune ecommerce stores. Ensuring that you have good ALT tags for your products helps when trying to rank in image searches. ALT tags help give search engines better context/descriptions when they crawl your site 
Apart from a ranking perspective, ALT tags are needed to improve accessibility for the visually impaired. Screen readers, used by the visually impaired, are able to read the ALT text and help the reader better understand the image they are browsing.
2. Improve Click-Through-Rate (CTR)
If you are already ranking on the first page of Google or at the top of page two then to get more clicks, you need to make your title tags and meta descriptions more compelling. To get some inspiration, go to Google and search the term you rank for and look at the advertisers that are using Paid Search ads. These adverts have been vetted and rated by Google for quality, so will provide some very good examples.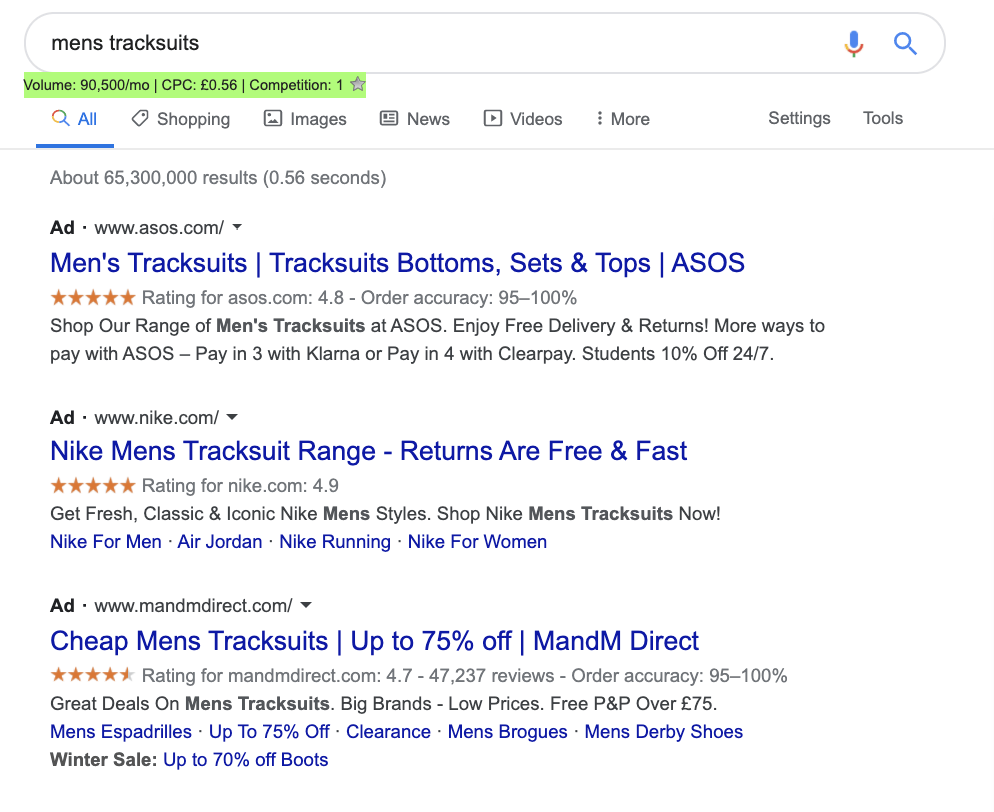 Some of the best examples to include could be:
"Spend £40 for Free Next Day Shipping"

"Up to 80% off"

"Spring Sale"
3. Improve category pages
Make sure that you also include <h1> tags for the page titles. Having clear navigation on your category pages is a must, it needs to be as easy as possible for users to filter to the correct sizes/prices etc as they need.
This example by PracticalEcommerce shows the infrastructure of a quality product page.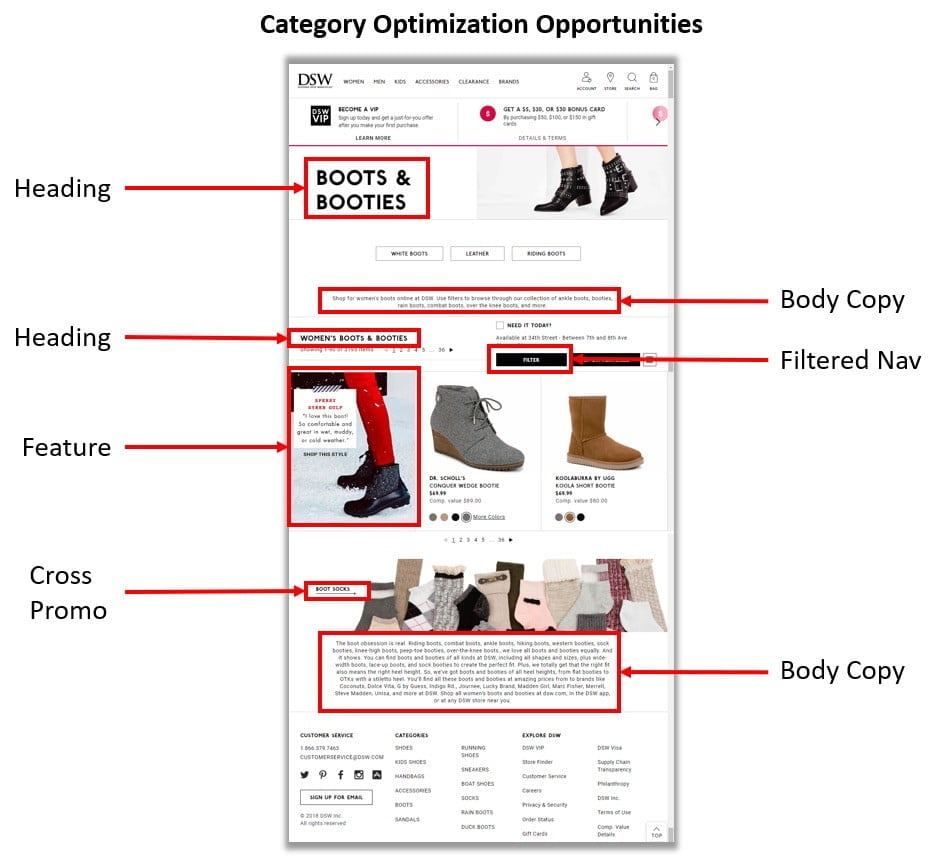 When you are looking to improve and refine your body text, head to Google Search Console and see what keywords people are typing in to find your pages already.
Visit Google Search Console -> Performance -> Select category page -> Queries
This is the most accurate way to find out how people are finding your website. Take a look at terms that are getting high impressions and clicks and insert them around your body copy. 
If it makes sense, use the search phrase in title tags, meta descriptions, URLs. You may be trying to optimise for one keyword whereas in fact, users are more likely searching for another keyword spelt in a different way. 
4. Build contextual backlinks
I have seen ecommerce link building done very badly. The key is to build contextual backlinks to specific pages on your website, not just the homepage.
For instance, if you are looking to rank for "men's tracksuits" when writing content in a guest post, for example, you would include the keyword as the anchor text link back to the "men's tracksuits" category page, and so on so forth. 
5. Improve internal linking structure
First of all, be sure that you fix any broken links that you have on your website. You can do this by running your website through ScreamingFrog, if there are any 404 pages from old links such as old products then redirect these links to either an updated version of the product or the category page. 
Improving the infrastructure of your site by linking to other product pages on a category page helps with building the page authority. For example, on a "men's tracksuit" landing page, you could include brand names within the body copy and use the brand's name as the anchor text and link to that brand's landing page.
6. Noindex appropriate pages
Although most ecommerce platforms perform this already, do make sure that search results pages, Cart and Checkout aren't part of your sitemap.
Let's find the best solution for your business